This review originally appeared in shorter form on KSNT-NBC, KTKA-ABC, and KTMJ-FOX, Kansas First News.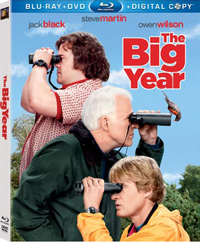 It's not a stellar week for home video, but you could do worse than these two slight but entertaining movies, out now on Blu-ray and DVD.
The Big Year (2011)
The Big Year stars Steve Martin, Jack Black, and Owen Wilson as bird-watchers whose lives get turned upside-down in their quest to spot as many species of birds as they can in one year.
The Big Year is completely predictable and full of way too many bird-watching montages set to inspiring music, but it's such an upbeat, cheery film that it's pretty hard to resist.
Black and Martin are especially charming as guys from way different backgrounds who become unlikely friends and for a PG-rated family comedy, you could do a lot worse.
Anonymous (2011)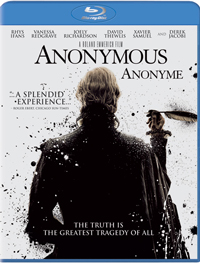 Also out now is Anonymous, a lurid, pulpy tale set in Elizabethan times that explores the idea that the author of William Shakespeare's famous plays was actually the Earl of Oxford, and not Shakespeare himself.
But this story goes way deeper than that, weaving all kinds of secret Royal scandals into the mix as well. It could have been a humorless lecture, but it's not.
Anonymous is directed by Roland Emmerich, the schlockmeister behind such films as Independence Day, the Godzilla remake, The Day After Tomorrow, 10,000 B.C., and the stupid, stupid end-times fantasy 2012.
Here his approach isn't much more subtle, but it suits the material better, since this is presented as a controversial exposé, complete with opening and closing remarks from Derek Jacobi, an actor revered for his Shakespeare stage performances in the British theater. Jacobi's very presence is meant to elicit a shocked reaction.
Rhys Ifans proves to be a durable leading man as the Earl, even if Rafe Spall's drunken, loutish version of Shakespeare is a caricature.
Oscar-nominated this year for its costume design, Anonymous is overall well-acted and fairly entertaining, even if its convoluted plot is a little full of itself and hard to swallow.
Here is contributor Alan Rapp's less forgiving review of Anonymous.