This review originally appeared in shorter form on KSNT-NBC, KTKA-ABC, and KTMJ-FOX, Kansas First News.
A writer brings a character to life out of thin air and a boy begins to learn the secret of his family after a strange spider bite in two movies new out on DVD and Blu-ray this week.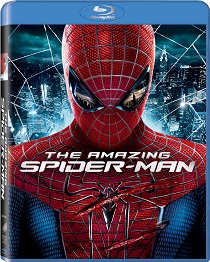 The Amazing Spider-Man (2012)
The Amazing Spider-Man starts the Marvel comic-book legend over with Andrew Garfield in the lead role as Peter Parker. Despite the movie's thematic familiarity with the 10-year-old Tobey Maguire Spider-Man film, this new one plays surprisingly well.
Featuring a well-rounded story and great chemistry between Garfield and Emma Stone—who plays Gwen Stacy—it's a great start to the new series.
For my full-length review of the movie itself, check out The Amazing Spider-Man Familiar but Effective.
As far as extra features on the Blu-ray go, this is one of the most stacked releases of the year. There's an audio commentary, a feature-length making-of documentary, 16 minutes of deleted scenes, early animated visualization sequences, and stunt rehearsals.
Ruby Sparks (2012)
From the directing team that did Little Miss Sunshine, Ruby Sparks is an offbeat comedy-drama about an author—played by Paul Dano—who wills a woman into existence while writing his new book.
Zoe Kazan is the writer of the film and also plays its title character, a girl so cute and perfect that she could only be a fictional creation.
But Ruby Sparks isn't all sunny romantic comedy. The manic pixie dream girl doesn't stay that way for long. She grows into something of her own.
What the movie really does is tackle the idea that people in a relationship will often try to remake the other person in their image.
Some of the twists are more obvious than others, but Ruby Sparks has just enough charm (mostly from Kazan herself) to skate by.