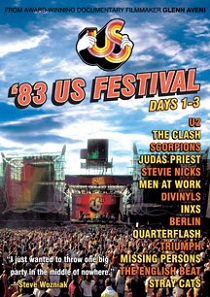 There are live concert films you absolutely need understand the existence of: Woodstock, Monterey Pop, Isle of Wight, Stop Making Sense, et al. Then there are those where you just wonder what the purpose of their existence is supposed to be.
That's the '83 US Festival DVD, out now from MVD Visual.
It's a conundrum in myriad ways. Primarily, the '83 US Festival was actually the second of two festivals Steve Wozniak put on in the hills near San Bernadino, California. This is the only comprehensive document of either festival, although Shout! Factory has released individual sets from The English Beat, Willie Nelson and Waylon Jennings, and Quiet Riot. And that's what the strange thing is: even as being a "comprehensive" DVD, it leaves out an entire day of performances.
That's right: MVD and Unuson have gone to the trouble of releasing a DVD that's not even a full document of the event which it purports to cover. And missing a day isn't even the thing — the performances are frequently talked over, with interview material cutting into the songs. Most acts get one or two performances, which are nice, and really do a fine job of documenting the crowd's reaction to these performances, and really demonstrating the scale of what this show was.
However, the performances, when not spoken over, are still pretty limited. Only about half the acts from any given day are shown, and those that do make it onto the DVD are not who I would've picked. The Sunday, May 29 "Metal Day" performances featured Quiet Riot, Mötley Crüe, Triumph, Ozzy Osbourne, Judas Priest, Van Halen, and Scorpions. We get four songs from Triumph, and nothing from Ozzy, the Crue, Van Halen, or Quiet Riot.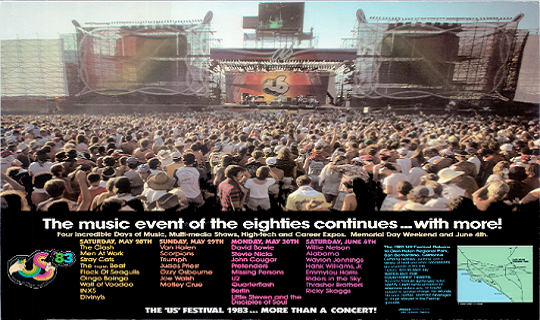 It just seems like Wozniak and company want there to be a document of this amazing festival — which, really, it was. Each of the US Festivals were arguably the biggest North American concerts since Woodstock, and likely the biggest thing the nation would see until Live Aid a few years later. However, what's disappointing is that this disc fails to demonstrate the real star power onstage or off. The only performances that really make an impression are U2, The Clash, and Stevie Nicks — but, you don't get to hear from them regarding what they thought of their performances. There's copious amounts of verbiage from the Woz and former MTV VJ Mark Goodman, but otherwise, there's next to nothing.
Frankly, this plays like one of those concert compilations that airs on PBS during pledge season, where you get a sense of what's available, but you have to pledge $150 to get any of the good stuff. Yet, you're actually paying money for this, and still not getting anything worthwhile. The whole concert was simulcast on MTV, and you get the feeling that if somebody had the money to clear the music rights from the big names — Bowie, The Pretenders — and really the ability to work at it, you'd have something really worth watching. Wozniak dropped $20 million of his own money to make this happen. You'd think people would want to talk about this.
Strangely enough, there's evidently a documentary that director Glenn Aveni did about the '82 festival that's been tied up in limbo, yet this somehow made it out. After spending over two hours with it, I still have no idea as to why this half-assed piece of fluff exists at all.