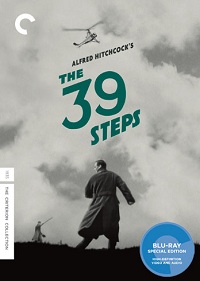 The 1935 film The 39 Steps is the first movie that should have earned director Alfred Hitchcock the title "Master of Suspense." It may have been his twentieth film, but its still considered an "early work," and it was the one that made British audiences sit up and take notice.
His adaptation of the 1915 spy novel The Thirty-Nine Steps by John Buchan may not be in the more traditional vein of his American thrillers, but it contains a lot of the themes that would show up later in his more celebrated and well-known works.
The Criterion Collection has just put out an excellent new Blu-ray of the movie, and it has the expected amount of entertaining and informative special features (including a 2000 British documentary covering the director's prewar career), with great sound and picture to boot.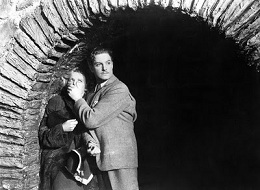 Humor and romance play a big part in the breezy yet tense The 39 Steps and the mistaken-identity/conspiracy plot and flirtatious nature of the lead character in this movie (Richard Hannay, played by Robert Donat) would also later be used to great effect by Hitchcock in North by Northwest with Cary Grant.
Other wrong-man fugitive scenarios from Hitchcock include Strangers on a Train, The Wrong Man, and The Man Who Knew Too Much.
Donat is the man on the run and Madeleine Carroll is the woman who is caught up in the intrigue while Donat criss-crosses the Scottish countryside. It's surprisingly fast-paced for a 1935 film, full of twists and turns, and when the unlikely couple becomes handcuffed together and are forced to pretend they are married, The 39 Steps really kicks into high gear. Donat and Carroll have chemistry to burn.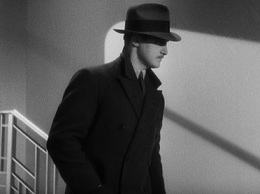 According to the essay by David Cairns included with the booklet of The 39 Steps, Buchan actually congratulated Hitchcock on improving his story, and adding Carroll's character was a big part of that. Not only does she defy convention  for much of the narrative as she resists Donat, she also provides him someone to bounce his desperation and key plot elements off of.
Adding the key scene in the music hall that opens the film and bookending it with the film's final revelation gives The 39 Steps a satisfying jolt, and it's also the first Hitchcock movie that features the MacGuffin (the thing everybody's after that means nothing to the audience) so prominently.

Besides the documentary Hitchcock: The Early Years, The Criterion version of The 39 Steps features: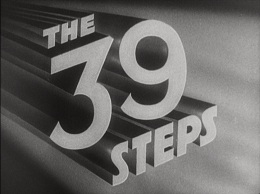 – Audio commentary by Alfred Hitchcock scholar Marian Keane
– Original footage from British broadcaster Mike Scott's 1966 television interview with Hitchcock
– Complete broadcast of the 1937 Lux Radio Theatre adaptation, starring Ida Lupino and Robert Montgomery
– New visual essay by Hitchcock scholar Leonard Leff
– Audio excerpts from François Truffaut's 1962 interviews with Hitchcock
– Original production design drawings