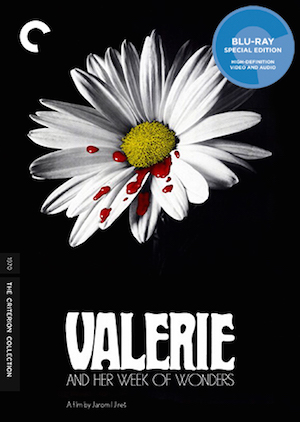 [Solid Rock Fist Up]
The older I get, the more patterns I see in the movies. Whether it's plot, theme, or the classical Hollywood editing style, there's lots to compare to other films. That's why the more movie I see, the more I value films that have what I'll call "The Curiosity Factor."
If a movie has The Curiosity Factor, it's pretty much exempt from any kind of value judgements about narrative coherence, characterization, forward plot movement, and all those nagging ideals that usually make up standard movie reviews.
Valerie and Her Week of Wonders, restored in 4K and just released by The Criterion Collection on Blu-ray, is one such film.
On the surface, this 1970 movie from Czech New Wave auteur Jaromil Jireš seems like a softcore porn Alice in Wonderland but without quite enough nudity to qualify. It follows the 13-year old title character (Jaroslava Schallerová) as she makes her way through a series of loosely connected dreamscapes in her medieval-ish town, all of them somehow challenging or awakening her burgeoning sexuality. The "Week of Wonder" takes place at the beginning of Valerie's first menstrual cycle.
But the images. Oh the images! They're like a Gothic soft-focus Malick meets Herzog: The wind wafting through curtains. Valerie's hair spread out on a bed, shot from above. Blood dripping on a daisy. The extended, ceiling-less all-white bedroom. Valerie sprawled out within the branches of a tree. A mysterious hooded figure (Jirí Prýmek) who removes his animal mask to reveal he is actually some kind weasel-ish monster, with awful teeth.
Also, he may be Valerie's father. Her grandmother, who is supposed to protect Valerie, covets her innocence and youth. And she is played by the same actress that is her mother (Helena Anýzová). The clergy can't be trusted either, as a preacher (Jan Klusák) attacks her sexually, blaming not his own lustfulness but Valerie's beauty. Oh yeah, and the one person who is consistently on her side (Petr Kopriva) may also be her brother.
Is the entire film a manifestation of Valerie's mind? It may be, but I'm not committing to that either. It all seems to stem from the fear of impending womanhood, but the movie retains the wonder (and sometimes misplaced confidence) of a child. Jires strings all of these surreal moments together in a way that recalls how we perceive our dreams just moments after waking. There are moments of pure and frightening clarity, mixed with images that can't be reconciled with any kind of reality. These dreams don't offer coherence, but rather a strong, deep feeling that can take hours to shake.
Jires based Valerie and Her Week of Wonders on the 1935 novel by Vítezslav Nezval, which according to the Blu-ray's interview with film scholar Peter Hames, wasn't much more narratively clear. Three early shorts by Jires also appear on the disc: Uncle (1959), Footprints (1960), and The Hall of Lost Footsteps (1960), the latter of which has some stunning visuals as well. Some short interviews from 2006 with actors Jaroslava Schallerová and Jan Klusák are included, as well as an alternate neo-folk soundtrack from 2007 by a group that calls itself the Valerie Project. You can watch the entire film with this new score, which takes the movie out of it's 70s context and makes it even more out of time.