This review originally appeared in shorter form on KSNT-NBC, KTKA-ABC, and KTMJ-FOX, Kansas First News.
Straw Dogs (2011)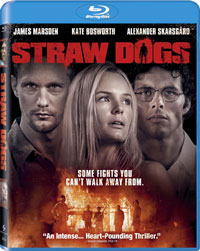 Straw Dogs, out now on DVD and Blu-ray, is a remake of a controversial 1971 movie from Sam Peckinpah starring Dustin Hoffman. This version — directed by Rod Lurie, who tried to put a more "feminist" spin on things — takes the action from a village in England and recasts it in the small town of Blackwater, Mississippi.
L.A. couple James Marsden and his wife Kate Bosworth get into conflict after contrived conflict with the redneck locals, who start out like the football-obsessed citizens of Friday Night Lights and end up like the pitchfork-wielding mob from Frankenstein.
James Woods is ridiculously hammy as a raging alcoholic football coach, and it's too hard to take any of the social issues it raises seriously. What's worse, Straw Dogs doesn't even work as a thriller. And of course, like the 70s original, it just turns into an all-out blood bath at the end — which can't help but notch up the campiness.
Rod Lurie may have had good intentions but Straw Dogs just isn't engaging at all.
Don't Be Afraid of the Dark (2011)
Don't Be Afraid of the Dark, on the other hand, has more modest goals.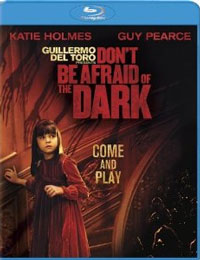 This horror movie just barely missed the PG-13 rating it was shooting for during filming (it received an unjust "R"), which probably hurt its chances of doing more robust box office. It's too bad more people didn't see it, but its out now on DVD and Blu-ray, so more people can.
Produced by Guillermo del Toro and directed by first-timer Troy Nixey, it's a small, creepy little haunted-house movie filled with mischievous creatures and a whole lot of spooky atmosphere.
Guy Pearce and Katie Holmes are fine as the unsuspecting couple, and Bailee Madison is really effective as the 8-year-old girl plagued by these scary little beasties.
For a night of old-fashioned creepiness without all the gore, Don't Be Afraid of the Dark might just do the trick.