Two suspense thrillers new out on Blu-ray showcase two completely different approaches to what may be considered the horror genre. The term has morphed a lot since the late 60s/early 70s and the rise of the exploitation films, but both Stoker and The Last Exorcism Part II have what can be considered classic horror elements.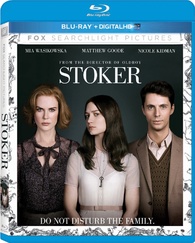 Stoker (2013)
Make no mistake: Stoker is a director's movie. Park Chan-wook, the South Korean filmmaker responsible for the controversial Oldboy and the rest of The Vengeance Trilogy, is a noticeable presence behind every decision the movie makes.
His camera is deliberately and uncomfortably placed throughout the film, sometimes framing the title character, young India Stoker (Mia Wasikowska), at the far edge of the screen facing the wrong way (for a fluid reverse-shot conversation) with creepy Uncle Charles (Matthew Goode) and unsuited mother Evelyn (Nicole Kidman). And that's just one scene.
Stoker is all mood and buildup, culminating in some truly unpredictable cathartic moments. On the surface, it's a Hitchcockian Shadow of a Doubt-style tale about a mysterious uncle's untoward affections, but it also turns out to be a twisted coming-of-age tale.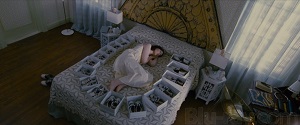 However you view it, Stoker is the kind of movie you want to own, if not to watch it again and again but to study the oddball camera placement and movement and how it affects you emotionally. Classic film language has been fixed since the first half of the 20th century and modern film language can be so frenetic that it's refreshing to see a daring filmmaker creating tension and dread out of slow-paced, deliberate choices rather than quick-cut chaos. It also contains at least one drop-dead hilarious instantly all-time classic line, delivered by Kidman with considerable relish.
The Blu-ray contains three short extended/deleted scenes, red carpet footage, some basic featurettes, set photography, and an insightful 30-minute making-of doc with interviews.
The Last Exorcism Part II (2013)
The sequel to the surprise hit The Last Exorcism — a handheld, Blair Witch-style possession movie where you actually see the people operating the cameras — is the exact opposite of Stoker. It's all cheap scares without earning any sort of creepiness.
Throwing all of the reality-style trappings of the first movie out the window, The Last Exorcism Part II follows Nell (Ashley Bell), who survived the first film, as she goes through the motions of what can now be considered every modern horror cliche. There is no atmosphere (outside of being shot in New Orleans, and even that looks dull) to speak of, but there are loud music cues that come out of nowhere and plenty of jump scares as something suddenly appears in the frame. (But just as quickly, it's gone again! Or was it just something harmless after all?)
Who cares?
There's nothing interesting in the plot or character department either. Another troubled girl (Julia Garner) surfaces, more red herrings develop, and it leads to an absolute nothing of an ending. Since the director of The Last Exorcism (Daniel Stamm) didn't even direct this generic rip-off, its weird that producer Eli Roth would chat it up with Part II director Ed Gass-Donelly on the audio commentary as if everything were cool.
It's not. The Last Exorcism Part II is a tedious, underwhelming cash grab if there ever was one — a cynical attempt to use the iconic bent-over-backwards image of a possessed girl and the name recognition of the first movie to swindle people out of their money. Don't fall for it.