"It's the world's largest hick town."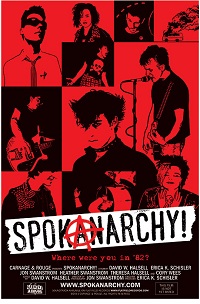 Arguably, the insular nature of Spokane, Washington — isolated as it was — is what the music-scene documentary SpokAnarchy! (out now on DVD) is attempting to represent and reproduce. Unfortunately, it comes off as being a tale of people you've never heard of, referencing people with whom they're familiar, but you're not.
The music is presented as being in a vacuum, and evolving as such. There's no frame of reference other than the stories of those involved, and it makes it difficult to become invested in what's happening onscreen. (Depending on where its referenced, the movie also credits anywhere from three to six co-directors.)
The major failing of the film comes down to the fact that SpokAnarchy! tells a lot more than it shows. The majority of the film consists of interview footage with people telling stories, and performance footage is minimal. What is extant is frequently presented silently, with voiceover audio. The film starts out with plenty of live performance footage, but quickly becomes a series of talking heads.
Perhaps the "hick" nature of Spokane meant that folks didn't have access to video cameras. Nonetheless, people talking about shows will never be as informative as seeing the shows happen. Hell, there's not even very many photos. A still image would be more illuminating than watching a bunch of dudes sitting on a couch. Never has a movie about music featured so little in the way of performances. A Ken Burns doc has fewer talking heads than this.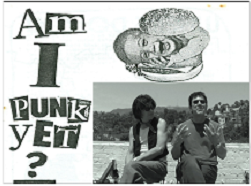 The standard narrative tropes of music documentaries require that, being as how the majority of the viewing audience might not be familiar with all of the players, you want to associate names with faces. When somebody mentions a person, you then cut to that person telling their side of the story. Names and faces become entwined, and relationships are delineated.
Rarely, if ever, is this done, leading to SpokAnarchy! developing so little empathy and story that by the time heroine is introduced, and people who died are spoken of, you have no emotional response. "Who are these people, and why should I care?" was the only thought passing through my mind. The narrative is so lacking, you simply don't give a damn, with the same going for the reunion footage at film's end.
Also confounding and exacerbating the problem is that none of the bands of people featured in the film ever went on to any great success. The music and scene are obviously important to those who were involved, but never do the filmmakers demonstrate the importance or influence of these musicians in the greater American music culture. Spokane acts rarely toured, nor did they release anything to the country as a whole.
When the most familiar piece of music in the film is Keyboard Cat, it's difficult to make the argument that this film appeals to anyone outside the Spokane area.