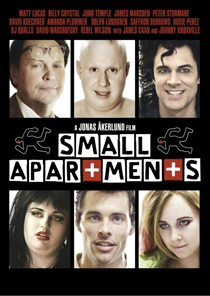 Small Apartments (2012)
The comedy Small Apartments, out now on DVD, is a bizarre concoction with an all-star cast that's all over the place and a plot so nutzoid that it could only possibly make sense inside the mind of its warped main character. Matt Lucas plays that character, an overweight weirdo who apparently doesn't wear pants, even when he ventures outside of his run-down apartment — which reeks of death, thanks to the decomposing corpse of his landlord lying on his floor.
Partially produced in Kansas City, and based on Chris Millis' novel of the same name, which is famous for winning the 23rd Annual International 3-Day Novel Contest, Small Apartments spends time with a whole horde of dysfunctional freaks. Johnny Knoxville, Juno Temple, and James Caan are all deeply unhappy people trying to figure it all out, but like Lucas, they don't ever really turn into real people we can empathize with.
Jonas Åkerlund, who directed the drug-comedy ensemble film Spun and a whole slew of music videos, has trouble putting it all together. Billy Crystal helps out as an alcoholic investigator (the only grounded character of the bunch), but Åkerlund seems distracted by all the inherent quirkiness of the personalities and uses it as a crutch.
The DVD extra features include  a short called "How to Build A Gravity Bong" with Johnny Knoxville (it's part of his character, I swear) and a pretty standard behind-the-scenes featurette.
Chicken With Plums (2012)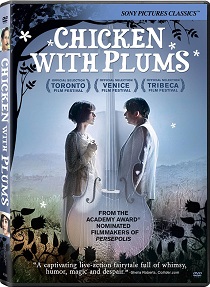 Even for a movie with a very substantial amount of magical realist charms, Chicken With Plums is odd.
A gifted Iranian violinist (Mathieu Amalric) is unable to replace a beloved violin and becomes distraught and suicidal. Or at least we think that is the cause of his torment, until a never-forgotten romantic relationship slowly reveals itself in a series of stylized flashbacks.
As they did with their 2007 animated movie Persepolis, filmmakers Marjane Satrapi and Vincent Paronnaud based the live-action Chicken With Plums off a graphic novel by Satrapi. The film veers wildly between long bouts of tragic longing and fits of surrealist comedy, both coming from the point of view of the violinist.
Strangely, though, with as much as creativity and care that was put into the staging of these moments, much of it is at the expense of a compelling and forward-moving narrative. Chicken With Plums is an admirable trip down the rabbit hole of a lonely man's mind and inspiration, but it loses its way about halfway through the movie and feels like a series of inspired, lovely short films, held together by the barest of threads.
Even the romantic thrust of the film is stunted, as the relationship between the violinist and his obsession (Golshifteh Farahani) doesn't have quite enough screen time to develop. An audio commentary track with writer/directors Marjane Satrapi and Vincent Paronnaud is included on the DVD, as well as a 15-minute Q&A from the Tribeca Film Festival.