This review originally appeared in shorter form on KSNT-NBC, KTKA-ABC, and KTMJ-FOX, Kansas First News.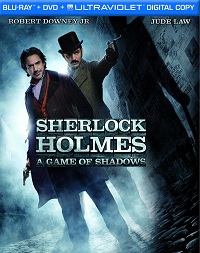 Sherlock Holmes: Game of Shadows (2011)
Sherlock Homes: Game of Shadows is the second in director Guy Ritchie's re-imagining of Arthur Conan Doyle's famous English detective. The major change in both this and the first movie is that Holmes does a lot more hand-to-hand fighting in slo-mo, and a lot less sleuthing.
The result was a box office hit, but one that eventually dulled the senses.
In Game of Shadows, though, Ritchie and his screenwriters give Robert Downey Jr. and Jude Law (as Holmes and his sidekick Watson) more witty dialogue and funnier situations, which is what keeps the whole high-energy affair from becoming total overkill.
It's still a nonstop barrage, but somehow Sherlock Homes: Game of Shadows is a little easier to take than its predecessor.
The Blu-ray has a very cool "Maximum Movie Mode" feature that allows you to watch the film with Robert Downey Jr.'s video commentary. Not only is he self-deprecating and funny, but watching behind-the-scenes footage with multiple angles and interviews (in a picture-in-picture mode) as the same scene is being presented onscreen is a really engaging way to view commentary, and actually makes the film more fun.
Thin Ice a.k.a. The Convincer (2011)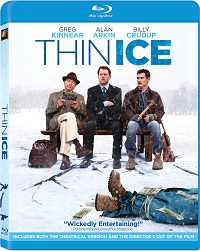 Thin Ice, on the other hand, is a low-key crime drama with a dark, dark sense of humor and an extremely unlikable main character.
Greg Kinnear plays an insurance salesman who is also a total con-man, and when he discovers that Alan Arkin, an elderly man who lives alone, has a historical violin worth thousands, he schemes to bilk the old man of his money.
Billy Crudup plays a possibly psychopathic ex-con who won't leave Kinnear alone. Some last-minute revelations help make his character a bit more believable, but he's also the only one with any energy in this movie.
The Blu-ray and DVD contain the original cut of the movie, which was taken away from director Jill Sprecher after the film was purchased at Sundance and promptly disappeared after being re-cut.
Sprecher's cut is the one I watched, and its 20 minutes longer than the studio cut. It builds suspense slowly and surely as things begin to come apart for Kinnear, but it eventually grows tiresome and the twist ending is still a bit hard to swallow.
Sherlock Homes: Game of Shadows was received as a promotional Blu-ray from Warner Brothers.