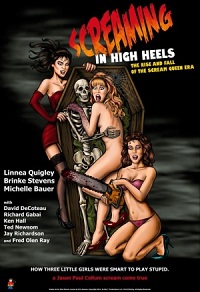 With the new documentary  Screaming In High Heels — out now on DVD from Breaking Glass Pictures — director Jason Paul Collum has done more than just chart the rise of "The Terrifying Trio" of cult actresses Brinke Stevens, Michelle Bauer, and Linnea Quigley.
Collum has also created a film that shows the decline of the grindhouse, rise of the direct-to-video shocker, and the subsequent death of the video store.
By presenting the concurrent biographies of these b-movie scream queens, Screaming In High Heels is the best history of the delightfully depraved horror home-video market as we'll ever get.
It's short, but intense. Packed as full as it is with interviews of the still-working women, as well as contemporaries and directors, you get a sense of from where these actresses' fame (if not outright notoriety) derived.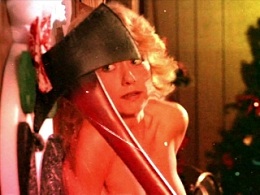 In addition to being fairly free in terms of their willingness to doff their tops, Bauer, Stevens, and Quigley were all actually able to act. Was it stellar? No — the clips demonstrate that these ladies were a notch above capable, at best. However, they had a certain gung-ho, "can do" spirit of moxie that propelled them into the limelight.
Watching the trio speak on the topic of making movies almost seems quaint. The direct-to-video era, when movies had a chance to find their audience via shocking or bizarre box art, is now as much a anachronism as a newsreel. Sadly, while digital allows anyone to make a movie, it means that there's a veritable glut of material out there.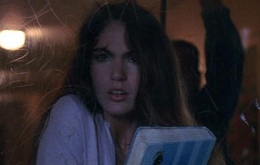 Screaming In High Heels, with its many shots of topless ladies, bad special effects, and bizarre plots (Hollywood Chainsaw Hookers? Assault of the Party Nerds?), ends up being absolutely cute in an era of torture-porn seriousness. It also has me looking to dig into the bargain bins in search of some of these flicks, post-haste.
What really makes Screaming In High Heels so appealing is the way it addresses age in terms of actresses' careers. These are women who still work, but not nearly with the frequency they once did. Some of it's due to choice – Bauer stepped away willingly – but the fact that Hollywood values youth is certainly brought to the forefront when one sees the rather exploitative films in which Stevens currently appears, and hear her descriptions of the poor working conditions.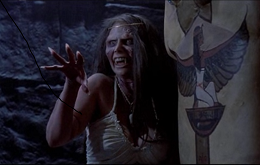 While Collum may have focused his lens on a rather flimsy and frivolous realm of film, the story ends up being much more than than just babes, boobs, and blood.
There's substance here, and one doesn't have to look far to find it.