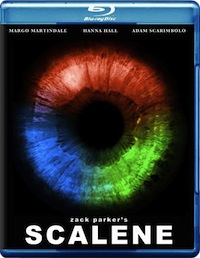 I'm torn about a new direct-to-Blu-ray/DVD release.
Scalene, the feature debut for director Zack Parker, is a genre bending film that is part psychological mystery, part character drama. Parker is a Midwestern filmmaker devoted to middle America, consistently returning to his native state of Indiana to shoot his films. He is also a devotee to great films, but though Parker takes his inspiration from lofty referents, such as Rashomon and Memento, Scalene feels somewhat lacking.
The film focuses on Janice Trimble played with zeal by Margo Martindale. (My interview with Martindale is here.) Janice is the middle aged single mother of Jakob (Adam Scarimbolo), a mentally handicapped twenty-something. As the pressure and isolation of her situation increases, Janice enlists the help of a local college social work student, Paige (Hanna Hall), so that the over-stretched Janice can take the occasional break.
As Paige's relationship with Jakob transitions from caretaker to friend, she suspects possible abuse and neglect from the lonely and emotionally strung out Janice. Before Paige can free Jakob from what she perceives as hostile environment, she falls victim to a horrific assault at his hands.
Like Rashomon, Scalene is about how individuals perceive and understand the same story. Each of the three main characters skews the events to their point of view, leaving the viewer to decide which of the three sees it most clearly.
Because Parker has structured his story in this way, the film feels lopsided when so little emphasis is given to Jakob's story. He is little more than prop, tossed between Janice and Paige.
In order for the characters to get to certain spots in the story, Parker and his writing partner Brandon Owens force them to make decision that often feel awkward and unmotivated. On a number of crucial occasions, I questioned the validity of what Janice and Paige were doing. If not for the strength of the performances, from both Martindale and Hall, the film could have fallen apart completely.
Though it is imperfect, there is still something engaging and emotionally complex about Scalene. While I have difficulty recommending it for casual viewing, it is a film that forces the viewer to mull over the situations and interactions that arise within its 97 minutes. Just like the three characters within Scalene another viewer could a very different reaction from my own.
Perhaps it is the ambition of this project that is its undoing, but Scalene is still a film that no single review can adequately describe. Check it out and decide for yourself. I'm excited to hear what others thought about it.