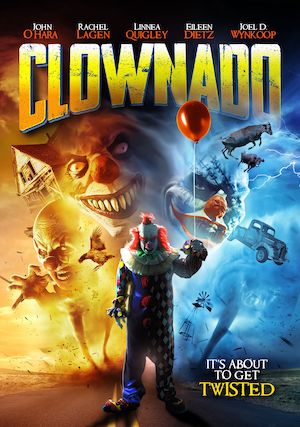 [Rating: Swiss Fist]
Let it never be said that Todd Sheets doesn't deliver. Granted, what he's delivering might be different than what you're after, but suffice it to say, the longtime Kansas City independent director knows how to bring the sticky, nasty gore, with a heaping helping of bared breasts.
So it goes in Sheets' latest outing, the portmanteau-titled Clownado (out now on VOD and available on DVD September 13 from Wild Eye Releasing). To summarize:
"Cursed demonic circus clowns set out on a vengeful massacre using tornadoes. A stripper, Elvis impersonator, truck driver, teen runaway, and a dude get caught in the supernatural battle between femme fatal and the boss clown from hell."
You certainly get all of that. Long story short, Savanna (Rachel Lagen) is cheating on circus leader Big Ronnie (John O'Hara). He kills her paramour, threatens to frame her for it, and then proceeds to have her tortured as part of his revenge. She can't escape, because of the circus mafia — yep, that's a thing — so she meets up with the circus' fortune teller, who casts a spell which goes awry, thus creating the titular Clownado.
She goes on the run, we meet up with Dion Livingston (Antwoine Steele), an Elvis impersonator whose ethnicity seems to be remarked upon by every single person he meets, including trucker Hunter Fidelis (Bobby Westrick). They end up in a restaurant / strip bar ran by Spider (Linnea Quigley, in a brief cameo), and that's where everything goes to hell.
There's lots of yelling, various people are murdered in squishy, gooey ways, and the plot seems to mainly consist of the occasional reference to what we saw at the beginning, including a lot of characters who for some reason speak as if they're from a '30s gangster picture. It's confusing, despite being fairly straightforward, but Sheets keeps Clownado churning along, never allowing things to get too mired down in plot. We're here to watch evil clowns murder people, and that's what we get.
There are some surprises along the way, however. The special effects, as always in a Todd Sheets movie, are plentifully gory and avoid too much CGI, choosing instead to utilize every possible way in which blood and/or organs can squish, squirt, and ooze out of a body via practical effects.
The performances aren't master thespian level, by Bobby Westrick seems to comfortably inhabit trucker Hunter, and Antwoine Steele once again demonstrates that he's Sheets' secret weapon with a performance that brings to mind Ossie Davis in Bubba Ho-Tep, wherein Steele manages to be fairly grounded and realistic, despite the crazy shit going on around him.
Sheets tried to go all Lucio Fulci with 2016's Dreaming Purple Neon, and while the attempt to go further and try something new was admirable, the mess which that movie became seems to have taught the director to tighten up, and the resulting films in Purple Neon's wake have been all the more entertaining for it.
Granted, they aren't high art, but there's something to be said for a movie which aims for big dumb fun and succeeds. A Sheets gorefest doesn't pander or wink to its audience, which is a major plus for Clownado. While its audience might be small, those who want to see the film won't be disappointed. Other more casual fans might find it wanting.