A quirky romantic comedy and a hard-hitting family drama are two new releases out on Blu-ray and DVD this week.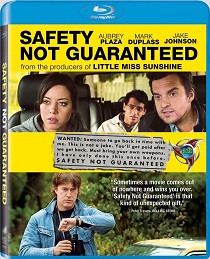 Safety Not Guaranteed (2012)
In Safety Not Guaranteed, a trio of employees at a Seattle magazine investigate a mysterious classified ad that reads:
WANTED: Someone to back in time with me. This is not a joke. You'll get paid after we get back. Must bring your own weapons. I have only done this once before. SAFETY NOT GUARANTEED.
What follows is a lighthearted tale starring Aubrey Plaza from TV's Parks and Recreation that deftly mixes absurdist humor with touching moments and a real feeling of loneliness.
Mark Duplass plays the guy who claims to have a time machine without a hint of self-awareness and his passion for time-travel charms and disarms Plaza. When the movie stays on them, which is most of the time, it's great fun.
The extras unfortunately are pretty paltry, featuring a 2-minute discussion of the original ad that inspied the film and a 15-minute making-of featurette.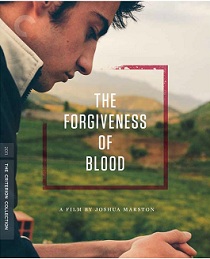 The Forgiveness of Blood (2011)
The Forgiveness of Blood, on the other hand, is a realistically portrayed drama from Joshua Marston, the director of the award-winning Maria Full of Grace, that may take you by surprise.
Essentially a coming-of-age story about a contemporary Albanian teenager (Refet Abazi), the movie explores what happens when age-old traditions and family loyalties get in the way.
A land dispute turns into a murder and the boy is caught in the middle of a blood feud, suddenly thrust into the spotlight as a target for murder himself, and unable to live a normal life. It's a searing portrait of a dangerous generational divide that ruins lives, told with a gentle touch.
The Forgiveness of a Blood is a powerful movie with a gritty feel that deserves a wider audience. It had a very limited release earlier this year, but hopefully more people will discover it now on DVD and Blu-ray.
Included on this excellent Criterion Blu-ray is Joshua Marston's director's commentary, two 20-minute featurettes, and some tapes of auditions and rehearsals with the film's unknown young actors.