Rushmore (1998) Blu-ray Review
One of the funniest and most original films of the 1990s makes its way to Blu-ray in a new special edition from The Criterion Collection that features enough extras to keep you busy all month.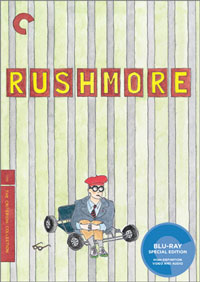 Rushmore was writer/director Wes Anderson's second movie and it announced the arrival of a sly humorist who takes situations to the point of parody but still retains an off-kilter poignancy. Trying to describe this offbeat  prep-school comedy is not easy, but here goes:
When 15 year-old private school student and chronic extracurricular under-overachiever Max Fischer (Jason Schwartzman) becomes disillusioned with his academic career, he meets a detached wealthy industrialist (Bill Murray), and both men learn about love in an awkward romantic triangle with Max's teacher (Olivia Williams).
Bottle Rocket introduced the world to Anderson, but this is an almost perfect creation — the movie that cemented his auteur status and revived Bill Murray's career. No jokes here, just odd observational humor and a deep sense of longing that the Bill Murray and Jason Schwartzman characters share.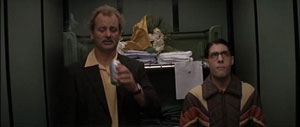 Rushmore may have shades of J.D. Salinger's writing and Hal Ashby's movies, but Wes Anderson pulls humor from the trickiest of situations (the only actual jokes in the movie are bad ones, and in context, they are really funny) and always manages to surprise.
For all its absurdities, Rushmore is also a very humanist film. Your sympathies may lie with any number of different characters each time you watch it. Whatever happens, it will probably put a great big smile on your face like it does for me.
I could watch this beautiful, hilarious film over and over again and never get tired of it.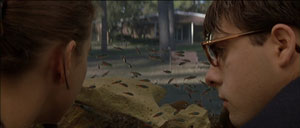 It features all of the previously released features of the excellent Criterion DVD:
– Digital transfer of the director's cut, supervised by director Wes Anderson (with new DTS-HD Master Audio soundtrack)
– Audio commentary featuring Anderson, cowriter Owen Wilson, and actor Jason Schwartzman
– The Making of Rushmore, an exclusive behind-the-scenes documentary by Eric Chase Anderson
– "Max Fischer Players Present" theatrical "adaptations" of Armageddon, Out of Sight, and The Truman Show, staged for the 1999 MTV Movie Awards
– Episode of The Charlie Rose Show featuring Wes Anderson and actor Bill Murray
– Audition footage
– Anderson's hand-drawn storyboards, plus a film-to-storyboard comparison
– Collectible poster, essay by film critic Dave Kehr