Two legendary rock n' roll figures get the biopic treatment with wildly different results, new on Blu-ray this week.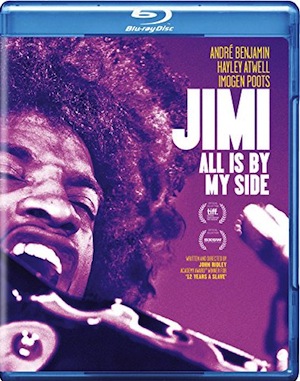 Jimi: All is By My Side (2014)
[Minor Rock Fist Up]
As played by André Benjamin, a.k.a. André 3000, in this off-kilter biography written and directed by Oscar-winner John Ridley (who penned 12 Years A Slave), Jimi Hendrix is still as mysterious a figure as ever. Benjamin does a masterful job recalling the spirit of the soft-spoken rock star with hippie ideals. Any casual fan will recognize his mannerisms. But Benjamin also paints Hendrix as a lonely, needy person tuned into a radio n one else can hear.
Ridley's approach is thankfully different from most life-spanning biopics, focusing instead on the fertile time between 1966 when Linda Keith (Imogen Poots) discovered him backing up R&B act Curtis Knight and the Squires at the Cheetah Club in New York and his career-changing performance at the 1967 Monterey Pop Festival. Keith finds him a manager, Chas Chandler (Andrew Buckley), the bass player for the Animals, and he's whisked to London.
There Hendrix is hailed as brilliant, not just because of his unique fusion of blues-infused rock guitar playing, but because in this mostly white scene (based on black American roots music), he represents the "other." He's a sort of "mystic" wildman with dark skin and velvet trousers, and that's the way he likes it. But in Jimi: All is by My Side, he remains a mystery. He either adopts this role because it seems to suit him or he already was a kind of obtuse person after years of mediocre success and a rough upbringing.
The full nature of his brilliance is difficult to get across because Ridley couldn't get the right from the Hendrix estate to use any of his original music. Guitarist Waddy Wachtel performs Hendrix-like takes on songs he was known to have covered, but without the music — without seeing him compose, get inspiration from, or perform any of it — it feels like everyone's freaking out about this great cover artist who makes impressionistic soundscapes but doesn't know how to write a tune.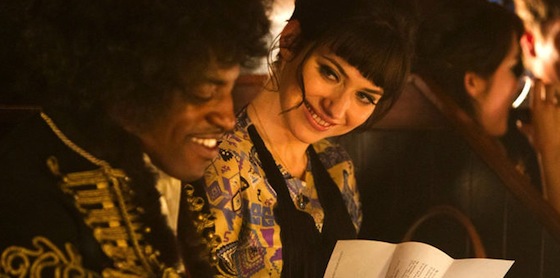 Ridley shot and edited the movie with lots of long takes, overlapping dialogue, some challenging non-linear editing during certain scenes, and used historical footage and old photos from the period. Some are more successful than others, and all these techniques are more interesting than his relationship with girlfriend Kathy Etchingham (Hayley Atwell), which is pretty typical. One buzzed-about scene featuring Hendrix beating her with a phone is even completely disputed by Atwell's real-life counterpart.
Still, Jimi: All is By My Side is an interesting curiosity that takes chances and gets at a certain truth about its enigmatic lead character. When black activists try to lure him away from the rock scene and instill in him a need to represent his "people," he responds with something like "They're all my people man."
Some bonus features (besides a quick interview with Wachtel) would have been a real treat, but also very awkward without Hendrix's music.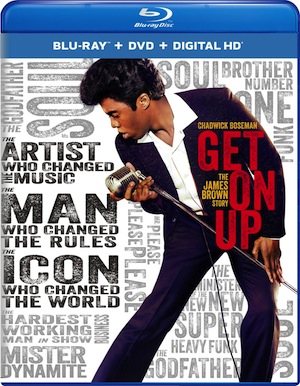 Get On Up (2014)
[Minor Rock Fist Up]
I'm giving Get on Up the same rating as Jimi: All is By My Side, despite the fact that they use two very different storytelling strategies. Get on Up is a more traditional biopic, covering a wider timeline, but it succeeds partially by mixing that timeline up and because of the solid performance of Chadwick Boseman as the troubled Godfather of Soul.
Not only does Get On Up offer a treasure trove of James Brown's fantastic funkified soul, but it was produced by none other than Mick Jagger, who supervised all the music. Boseman and the real James Brown trade off on vocals throughout the film, and even though its pretty noticeable who's who, the energy of the live performances makes up for it.
You'd think after the epic music biopic parody Walk Hard: The Dewey Cox Story that nobody else would open a film backstage before the big show (which itself was a send-up of the Johnny Cash biopic Walk the Line), but that's just what director Tate Taylor (The Help) does. It gets better from here, but not without flashbacks to Brown's dirt poor upbringing (just like Ray) as well. I mean, if that's the story, that's the story, right?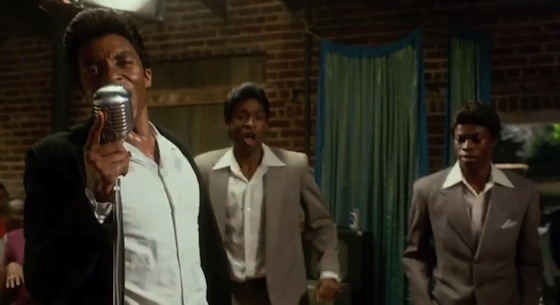 A severely compressed timeline makes mince-meat out of Brown's real-life professional relationship with Little Richard, and early on seems to simplify his unique contribution to R&B/soul by suggesting his screaming vocals and energy were enough. Thankfully, as his fortunes improve and Brown becomes more and more demanding, the screenplay from Jez and John-Henry Butterworth inserts some actual discussion of his songwriting and groove technique, giving the man credit for virtually inventing the funk.
The movie isn't afraid to shy away from Brown's many faults: He hits his wife, he's jealous, he's egocentric, he's petty, and he drives everyone close to him away. It coves all the bases, from his famous appearance in The T.A.M.I. Show where he upstaged the Rolling Stones themselves to the Apollo, to his post-MLK assassination concert where he kept the peace in Boston by insisting the show go on. And even though its partially played for comedy, a scene inspired by his bizarre 1988 arrest shows how Brown could go from laughable to scary in a second.
Thankfully, there's tons of bonus material on this Blu-ray: director commentary, song performances, featurettes, deleted/extended/alternate scenes, and more.