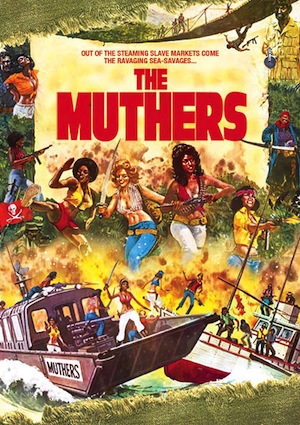 [Rating: Minor Rock Fist Up]
Sometimes you just have to watch an entire movie for one scene.
Vinegar Syndrome's new 2K restoration of the 1976 exploitation flick The Muthers (out now) looks good, though – restored from the original 35mm negative, this is a crisp, clean DVD that makes the film look way better than its budget would suggest.
However, when you watch the combination women-in-prison/blaxploitation picture, the limitation of that budget come hard into focus. The plot's pretty thin, and most of the action is confined to the first and last ten minutes. The intervening hour goes by at a pace that could've been livened up considerably by any number of genre-specific factors. Pointedly, there's not enough pointless nudity for a women-in-prison movie, nor enough kung fu ass-kicking for blaxploitation.
And, honestly, despite being billed as being from "master of Filipino sleaze, Cirio Santiago," the film's surprisingly good-natured. Pretty much without exception, all the really shocking scenes are in the trailer, like a misbehaving prisoner punished by being lifted into the air by her hair. One would expect a lot more cat-fighting, clothes-ripping, hair-pulling action for the genre, but The Muthers manages to be kind of clean-cut.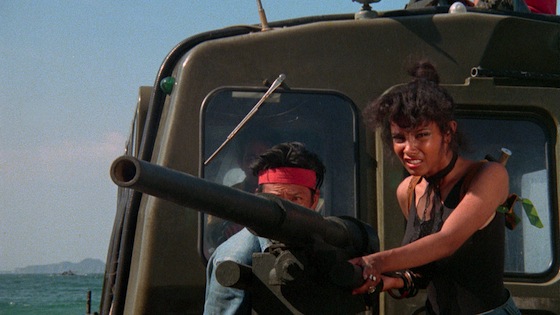 The women pirates who invade the island compound to rescue one of their own are strong, independent women who like to solve as much with words as they do with kicks and punches, and while that's an admirably progressive viewpoint for a '70s genre picture, it is not an entertaining one.
However, as was alluded to at the beginning of this review – every so often, a lackluster movie can be wholly redeemed by one scene. In this case, it's an Afro'd sister swinging like Tarzan with a machine gun. It looks amazingly cool, doesn't come off as exploitative, and you're on the edge of your seat rooting for the good gals to succeed. Astonishing how 15 seconds of footage can turn everything around.
If you're a fan of The Muthers already, this is the nicest version you'll ever see. Colors are crisp and vibrant, the sound's got some good breadth to it, and short of subtitles because I am deaf as a post, I can't think of anything that would improve this basic release. Granted, if you've never seen the movie, you're going to be a tad disappointed that it doesn't go as far as it could, in terms of genre tropes, but it still has its moments. It's not a necessity that you have this in your collection, but it's worth grabbing if the price is right.