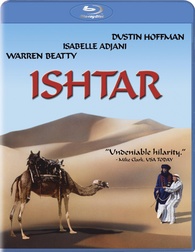 Ishtar (1987)
The infamous Elaine May comedy Ishtar will forever be known as one of Hollywood's biggest flops, despite the fact that almost-forgotten films like The 13th Warrior and Mars Needs Moms have since more than lost twice as much money as Ishtar did. Mostly, that's because Dustin Hoffman and Warren Beatty were two of the biggest movie stars in the country when it came out.
It's road to a digital format in the U.S. has been almost as difficult as its original box-office run. Although the film was eventually released on VHS, it hasn't ever been available on DVD in North America, and the Blu-ray release that's out today was scheduled then pulled from Sony's release schedule in January 2011.
It's time to herald a new beginning for Ishtar. It is now actually available on Blu-ray. I know this because I have watched it. And, guess what? It's not half bad. It's actually more than half good. Hell, it's funny, people!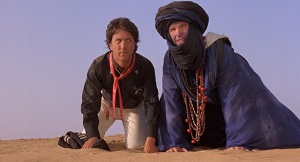 Considering May's pedigree (director of The Heartbreak Kid, 2-time Oscar-nominated screenwriter, former comedy partner of Mike Nichols), this shouldn't be a surprise to anyone. Beatty and Hoffman, as deluded middle-aged wannabe songwriters, are fish out of water before they even get to Northern Africa, where they get mixed up in a covert CIA mission. They can't fit in even before they leave New York, as they alienate their better halves by dedicating their lives to writing more ridiculous Tin Pan Alley-style tunes.
As far as a template goes, Ishtar has a lot in common with Some Like it Hot. Two musicians pretending to be something they're not fall for the same girl (Isabelle Adjani) and are pitted against each other. A series of slapstick mishaps and ridiculous situations follow. Besides droll supporting work from an excellent Charles Grodin, Ishtar also gets a lot of mileage out of its terrible and terribly funny songs — with titles such as "That a Lawnmower Can Do All That."
Before you get all bunched up that I would even think to compare Ishtar to a comic masterpiece like Some Like it Hot, let me be clear that I'm using it as a reference for tone and comic situations. Ishtar still has a lot of jokes that fall flat, moments that try too hard, and uneven pacing. It's no masterpiece, but it is a weird little movie filmed on a big, big budget that seems to exist in some weird late 60s-early 70s time warp.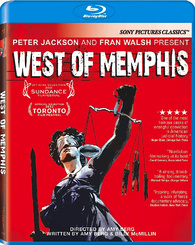 West of Memphis (2012)
The 1993 trial and unfortunate murder conviction of the three teenaged boys who became known as the West Memphis Three was covered extensively in a trilogy of Paradise Lost films from 1996 – 2011. These remarkable films (especially the first one) were exceptional partially because of the access Joe Berlinger and Bruce Sinofsky were allowed during the trial, and they captured the dueling incompetencies of the prosecution and the defense — as well as Damien Echols' brief (and unfortunate) flirtation with infamy.
West of Memphis is a documentary that distills 19 years of a witch hunt, a grass roots movement, lost leads, confusion, countless appeals, and hope into one remarkable movie that is hellbent on setting the record straight. Co-produced by Peter Jackson, one of many WM3 supporters who lent not only his money and time but considerable investigative effort to free the wrongly convicted Echols, Jason Baldwin, and Jessie Misskelley, it is a film with enough fervor for all three Paradise Lost movies.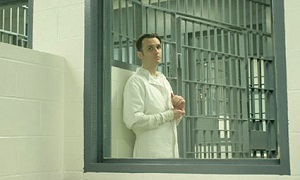 One one hand, that means the facts of the case are explored in intimate detail. No stone is left unturned in their investigation (including naming a possible suspect) and director Amy Berg lays out all the excruciating detail in an easy-to-digest fashion. Where Paradise Lost was a riveting character drama that constantly kept you guessing at peoples' motives, West of Memphis is a well-researched, impassioned plea where the filmmakers become very involved with the process.
People interested in the case will need to pick up West of Memphis on Blu-ray because of the enormous wealth of extra information and features. There is — no kidding — almost 90 minutes of deleted scenes; a feature-length commentary with Echols, wife Lorri Davis, and Berg; two Q&As from the Toronto International Film Festival featuring all of the above, plus Johnny Depp and Dixie Chicks singer Natalie Maines; and four short segments (re-creations) from Echols' past.