This review originally appeared in shorter form on KSNT-NBC, KTKA-ABC, and KTMJ-FOX, Kansas First News.
Two PG-rated family films have recently made their way to DVD and Blu-ray and they couldn't be further apart. One is a feel-good movie with Matt Damon and a bunch of cute animals and the other is a cultish animated film from 35 years ago warning us of the encroaching power of technology. Here's the latest on home video.
We Bought a Zoo (2011)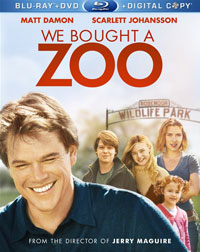 We Bought a Zoo is one of those movies with a title that pretty much says it all. Recently widowed Matt Damon buys a zoo with the intention of keeping his family busy as they deal with their mother's death.
Does the stress of turning around a dilapidated zoo bring the family together or break them up?
If you don't already know the answer to that, you haven't seen many feel-good movies.
This one, directed by Cameron Crowe is pretty manipulative sometimes but it also stays pretty grounded and can be surprisingly funny and emotional, even when you can see the strings being pulled.
My original review of We Bought a Zoo.
The Blu-ray and DVD of We Bought a Zoo are chock full of extras for those that want to keep the warm feeling alive even longer. The bonus content is plentiful:
– Audio commentary with director Cameron Crowe, editor Mark Livolsi, and actor JB Smoove
– 20 deleted and/or extended scenes
– We Shot a Zoo: comprehensive one hour, 15 minute making-of documentary
– Their Happy Is Too Loud: A look at creation of the annoyingly inspirational score, by Sigur Ros frontman Jonsi.
– The Real Mee: The real Benjamin Mee discusses the real zoo and what really happened for 35 minutes.
– A 7-minute gag reel
Wizards (1977)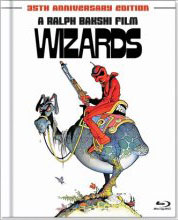 Wizards was billed in 1977 as "an epic fantasy of peace and magic." This animated movie from Ralph Bakshi—who would go on to direct the animated Lord of the Rings—is a bit of a cult classic. Wizards goes beyond your standard sword and sorcery tale into some heavy surrealism.
It features some jarring experimental processes where traditional hand-drawn animation covers the foreground, while actual battle video from other movies plays in the background.
With all of its varied animation styles and a wide swath of interesting-looking characters, Wizards is a pleasure to look at—so much different than the animated movies you see today.
The story is kind of a mess, but it has its heart in the right place, being a cautionary tale about how technology can strip one of their humanity if they're not careful.
For a reminder of just how different animated storytelling was in the 70s, check out Wizards in its 35th Anniversary Blu-ray, out now.
The Blu-ray is packaged in a 24-page full-color digibook, and features director'c commentary from Ralph Bakshi and a 35-minute featurette on Bakshi, the movie, and his career.