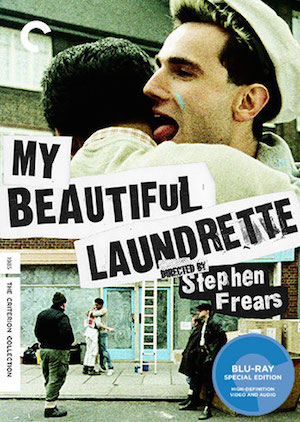 [Rating: Solid Rock Fist Up]
How does a movie from 1985 seem so edgy and iconoclastic even 30 years after it was made?
My Beautiful Laundrette, out now in a new, restored 2K digital transfer on Criterion Blu-ray, takes place in a specific setting and with such specific characters that, even though the place and time feels very unfamiliar, is rendered relatable with an expressionistic tone by a humanistic director who coached some true, raw performances — including one from then up-and-comer Daniel Day-Lewis.
Stephen Frears, who went on to direct Dangerous Liasons, High Fidelity, and The Queen, among other heavy-hitters) helmed this ultra-indie from an original (and Oscar-nominated) screenplay by Hanif Kureishi. The movie takes place in South London, during the Margaret Thatcher era, and mixes in all kinds of issues that challenged Asian immigrants, working-class kids, homosexuals, and skinhead culture at this time. But it does so without ever seeming like some kind of lecture. Instead, the issues all take the form of personal struggles and help to paint a richer picture.
Gordon Warnecke is an Anglo-Pakistani man who wants to impress his family by re-opening a failing laundrette. We meet his alcoholic father (Roshan Seth), a socialist who has lost all hope of reform and still mourns his wife's suicide. His uncle (Saeed Jaffrey), on the other hand, is a successful and corrupt businessman who has no qualms about going right along with the system in the name of keeping the family afloat. Of course, he has a mistress on the side and has forsaken Pakistani traditions even as he pretends to uphold them.
Day-Lewis enters the picture as Johnny, a childhood friend of Gordon's, and as with many of the scenes in Frears' dream-like movie, the two just drift together. Its fascinating to see how naturally he plays the many contradictions of his character. Johnny is with a neo-fascist skinhead group, but as his past with Gordon and his father is slowly revealed, different shades come into play and its clear that he's not one to be easily explained away.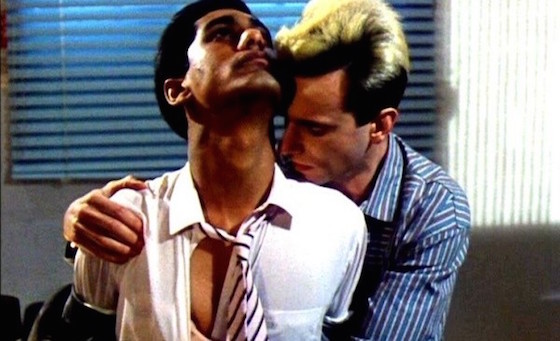 I suppose that the main plot thrust of My Beautiful Laundrette is rooting for Gordon and Johnny's washateria to succeed; an against-all-odds type of thing. But there are so many digressions and threads that Kureishi is more interested in exploring. Even the homosexual love affair unfolds with a refreshing honesty and a sense of surprise to it; being handled more like something embedded within the characters rather than a plot point thrown in just to bring up an issue or an easy conflict point.
Although it doesn't look like a grand amount of money was spent on My Beautiful Laundrette, cinematographer Oliver Stapleton creates a colorful, playful look that lies somewhere between fairy tale and social realism. Until I read the liner notes, I had no idea that the project was originally filmed for British TV and shot for $900,000 on 16mm film. Prints were eventually blown up to 35mm, and the result of this restoration is a transfer that is vibrant and alive.
There aren't a lot of extra supplements on the disc, but the new interviews with Fears, Kureishi, Stapleton, and producers Tim Bevan and Sarah Radclyffe are very enlightening and provide some nice context for a movie that still seems especially fresh in today's indie movie climate.