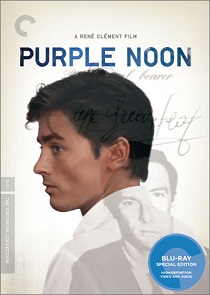 In America, movie audiences are probably more familiar with Anthony Minghella's 1999 film The Talented Mr. Ripley than they are with René Clément's 1960 film Purple Noon (Plein soleil).
Both are adaptations of the Patricia Highsmith novel The Talented Mr. Ripley, and both are cynical noir-inflected thrillers that take place in the bright sunlight of the Mediterranean rather than the dark corridors and looming shadows normally associated with noir. But Purple Noon, released in a strikingly restored Blu-ray from The Criterion Collection, differs from its American remake in one major respect:
Clément presents the devious and seemingly amoral Tom Ripley (a star-making turn from Alain Delon) with a huge amount of ambiguity concerning his motives. Minghella's movie  (with Matt Damon in the title role) went more into the detail and backstory of Highsmith's book, while Clément makes Ripley seem more quiet, distant, and dangerous.
Confession time: Because of the natural grainy texture of older films, I was at first kind of skeptical of the value of getting a Blu-ray when it comes to classics. But the rich colors in this gorgeous transfer of Purple Noon, shot by cinematographer Henri Decaë, has turned me around completely. We are really lucky to be living in an age when movies from the classic era can be presented in as close to their original format as possible. As I was growing up, I was always alienated by murky pan-and-scan VHS and first-gen DVD transfers, but film fans today are spoiled by amazing-looking re-issues like this one.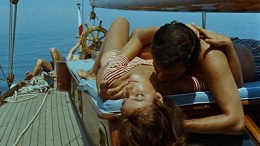 Anyone reading this who have been staying away from older films, worried that they aren't approachable, should give this one a try. This 1080p Criterion transfer was made using the original camera negative, while two original 35mm prints were used for color reference.
Speaking of gorgeous, Alain Delon is impossibly handsome, which makes the movie even more slippery because its easy to root for him. Tom Ripley has been paid $5,000 to retrieve his affluent former school chum Philippe Greenleaf (Maurice Ronet) from his extended vacation off the Mediterranean coast and bring him back to San Francisco to work in the family business. The two friends come from very different fortunes and Ripley plays, at least on the surface, an appropriately subservient role in the relationship. A subtle homoerotic affection between the two becomes apparent, as well as an eventual power struggle that leads to Ripley assuming Greenleaf's identity.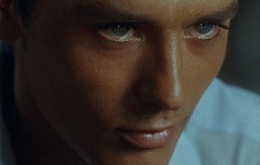 Clément's strategy is to film Ripley's actions with little editorializing and the film is both laid-back (like a relaxing Italian vacation) and taut at the same time, especially in the second half of the film as the stakes get higher and it becomes more of a thriller. Delon's performance is dynamite. Even as Purple Noon begins, something seems a little off about his passivity. His confidence grows as he gets in deeper, even as panic seems to set in behind his eyes.
Purple Noon is incisive without being overbearing. Clément has a minimalist approach that serves the material well and leaves you to draw your own conclusions about motivation. Then again, it's not hard to see why Ripley would covet Phillippe's lush and beautiful existence … as well as how easily he could fit in.
Bonus Features
As far as extras go, there is an informative 30-minute interview with René Clément scholar Denitza Bantcheva about Purple Noon (with specific scene dissection) and how it fits into the filmmakers' career, a 10-minute 1962 interview with Alain Delon, and a 20-minute 1971 interview with Patricia Highsmith about this book and some of her other novels.