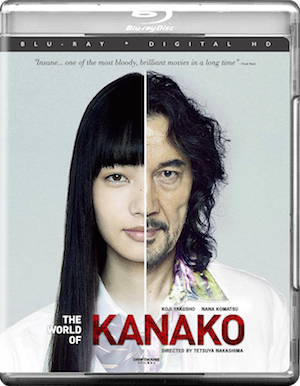 [Minor Rock Fist Up]
Two hours is a long time to endure an all-out assault on the senses.
Director Tetsuya Nakashima is hellbent to that end in The World of Kanako, his ultra-violent, ultra-stylized 2014 extreme revenge flick. It was released in America last fall by Drafthouse Films and comes to Blu-ray tomorrow in a handsome package that plays up the more lurid aspects, as Drafthouse is wont to do.
Still, Nakashima isn't some Eli Roth kind of hanger-on gore-hound hack. His 2011 film Confessions was Japan's submission for the best foreign-language film Academy Award, and as Kanako proves, he knows how to stage and edit an arresting sequence — usually it seems, intercut with another sequence from a different time period that metes out small amounts of information strategically to keep us at least slightly confused.
There's a mystery at the heart of The World of Kanako, but another mystery creeps up on the you and proves to be the real soul-killer. The surface-level goods: A teenage girl named Kanako (Nana Komatsu) has gone missing, and all of her personal items remain untouched, in her room. Her mother, against all of her human will, calls in Kanako's father, her abusive ex, to find the girl. He's an ex-cop named Akikazu (Kôji Yakusho)and he's battling all kinds of demons himself.
The obvious mystery is Kanako's whereabouts, but Nakashima surprisingly reveals more than mere plot mechanics. The story is less concerned with this dark alley and this rape and this drug addiction than its is the cumulative effect of these dangerous subcultures. Kanako isn't the person her father made her out to be and the mystery becomes him finding out who she really is.
Of course, along the way it seems Nakashima is testing us with a surplus of violent, awful behavior for violent awful behavior's sake. I suppose its a "duh" for extreme Asian cinema to contain these things, but there's a point when, if it doesn't seem absolutely essential to the story, it's just there for exploitation sake. Which is kind of obvious I suppose, given the fold-out poster by comic artist Tradd Moore that's included in the Blu-ray.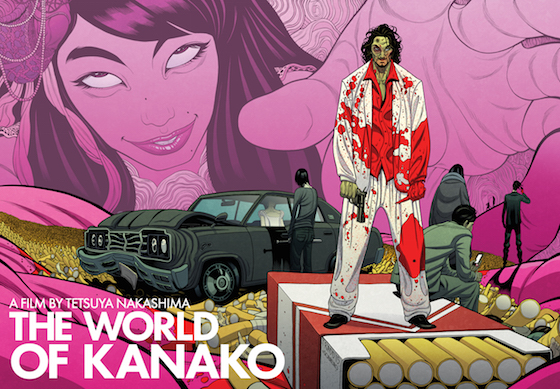 However, Tetsuya Nakashima's rapid-cut editing style is truly something else. It's as liberating as it is disorienting, and it makes unpacking the vagaries of the plot even more challenging. Along with that heavily stylized device, Nakashima's cinematography is stunning and varied throughout: quiet moments of stark beauty, such as snow falling in the darkness; strobe-heavy seizure-inducing slo-mo party shots with onscreen text; animated sequences that resemble modern version of a screen-printed poster.
If you can handle the excessive nihilism, The World of Kanako may reveal itself to be something more than just a punishing journey, revealing a family rot that's been handed down from father to daughter.
As far as extra features go, the doc The Making of the World of Kanako and the accompanying interviews will more than satisfy fans of the film, even if the profile of first-time lead actress Nana Komatsu is nothing more than a teen-oriented Q&A. Which, after watching the heavy, brutal themes of the movie, is even more strange.