This review originally appeared in shorter form on KSNT-NBC, KTKA-ABC, and KTMJ-FOX, Kansas First News.
If you have a hi-definition TV set, you may want to check out two gorgeously filmed movies this week that are out now on Blu-ray and DVD.
Prometheus (2012)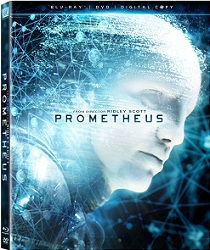 Amidst all the superhero blockbusters this summer, director Ridley Scott's sci-fi think piece Prometheus—a companion piece to Scott's original Alien—was released. It chronicles the journey into space of a group of scientists who are trying to discover nothing less than the meaning of life.
Besides sporting slick, futuristic art direction and striking cinematography, there's also a lot to chew on philosophically in Prometheus.
The only problem is that some elements of the story aren't as smart as the others and dumb horror cliches and clumsy expositional dialogue bring the film down a bit.
Thankfully, the extra features put the focus back on themes with 2 commentaries, 35 minutes of deleted scenes, and 20 minutes of advance promo videos.
In the Mood for Love (2000)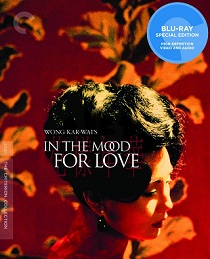 When critics talk about classics from the new millennium, they often mention In the Mood for Love, a 2000 Hong Kong drama recently reissued in a sumptuous transfer by The Criterion Collection.
Wong Kar-wai's movie revolves around two spurned spouses who begin to meet secretly and act out what it would be like if they confronted their cheating other halves.
In the Mood for Love is hypnotic. With its colorful palette and its rhythmic, sudden cuts, it makes the interiors of a 1962 apartment building seem extravagant, while the costume design for Tony Leung and Maggie Cheung makes Mad Men look like Sons of Anarchy.
As beautiful as it is to look at, In the Mood for Love is full of passing moments, missed opportunities, and plenty of darkness.
Extra features are plenty for further immersion. Director Wong Kar-wai's documentary on the making of the film@ "In the Mood for Love" is included, as well as Hua yang de nian hua (2000), a short film by Wong. Although there is no commentary, there's plenty more material:
– Deleted scenes with commentary by Wong
– Archival interview with Wong and a "cinema lesson" given by the director at the 2001 Cannes Film Festival
– Toronto International Film Festival press conference from 2000, with stars Maggie Cheung and Tony Leung
– Two new interviews with critic Tony Rayns, one about the film and the other about the soundtrack, featuring musical cues