It's been five years since the one-two punch of Zack Snyder's amped-up "Dawn of the Dead" remake and Edgar Wright's loving tribute "Shaun of the Dead" made the zombie movie mainstream entertainment again.
While not as clever as "Shaun" or as scary as parts of "Dawn," the new horror comedy "Zombieland" does pull off a minor coup in its genre—it successfully uses a zombie apocalypse as the setting for a romantic comedy/family picture.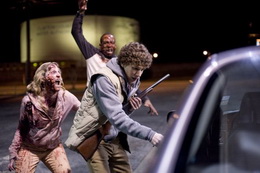 There are many surface-value stylistic touches that make "Zombieland" immediately accessible. The first that leaps to mind is a super slo-mo opening sequence set to Metallica's "For Whom the Bell Tolls" that pinpoints specific moments where the irony of becoming a zombie is simply too funny not to laugh at—like a zombie bride tackling her new husband moments after the nuptials and a zombie stripper wearing pasties and chasing businessmen out of a strip club. (The scene is even funnier when taken as a parody of the slo-mo opening of "Watchmen," Zack Snyder's latest film.)
"Zombieland" director Ruben Fleischer sets the playful tone with this scene, and by the time he starts inserting 3D graphic titles (a la TV's "Fringe") onscreen to illustrate the "rules" of how to survive in a zombie-infested world, he has the audience in his pocket.
What propels the plot forward, however, is the central conceit that it's not the big macho types who survive in this overrun non-society. It's the smart ones—like Columbus (Jesse Eisenberg), a nerdy videogamer whose neurotic nature now actually works in his favor. He is able to remember and learn from each dangerous zombie encounter he has and create a massive list of rules to live by.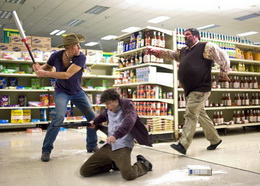 When he meets Tallahassee (Woody Harrelson), he's happy to latch on to a seemingly insane cowboy with a gung-ho attitude and large supply of weapons. A pair of young grifter sisters (Emma Stone and Abagail Breslin) that the new allies meet in a supermarket present a new set of challenges for them.
It turns out there's more to the characters of "Zombieland" than one might expect. Like Sam Raimi's horror comedy "Drag Me to Hell" from earlier this year, the movie relies on several small in-crisis moments to define these people. The casual attitude they all have towards the worldwide plague of flesh-eating monsters actually masks some common insecurities. This may seem incongruous in a movie where a creative zombie kill earns bragging rights, but it's essential to why the movie works so well.
In "Zombieland," the survivors search for any nostalgic connection to the past. Screenwriters Paul Wernick and Rhett Reese mine this idea for some unexpected poignancy and also some unexpected laughs. One scene in particular leads to one of the best cameo appearances in recent memory from a Hollywood star not afraid to lampoon his old movies. The script doesn't stay too long on anything either—it's efficiently plotted.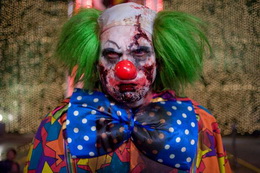 Even though the ending of the film requires the acceptance of some silly contrivances, it's easier to accept because everything that has come before it is delivered with a heavily self-aware quality. Columbus narrates the movie to the audience, constantly acknowledging their presence. Despite this artifice, Fleischer also balances the campy with the affecting to a great degree.
In the end, what makes "Zombieland" work better than it should is that it taps into a sort of common loneliness and the innate desire to feel like you are connected with people—be they family, friends, or fellow survivors of a zombie holocaust.