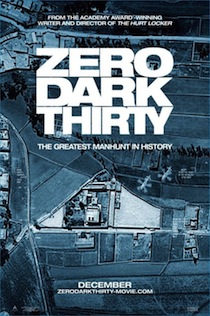 Director Kathryn Bigelow and writer Mark Boal return to hard-nosed military drama with Zero Dark Thirty, a film that tells a dramatized version of the 10-year manhunt for Osama bin Laden. That's the film on paper. On-screen, Zero Dark Thirty recounts the fear, uncertainty, frustration and obsession that characterized the last decade of the War On Terror. The film does an amazing job of dealing with its subjects and subject matter even-handedly, concerning itself with the details (real and embellished for the film) that led to discovering bin Laden's whereabouts.
Beginning with one of the most minimalist and affecting recounts of 9/11, the film soon introduces us to Maya played by Jessica Chastain, a young CIA operative attending an enhanced interrogation session. The way the Bigelow addresses these techniques, and more importantly, the information gleaned from them has drawn a lot of attention from critics and Washington, and may have cost her a much-deserved Oscar nomination. Ironically, the film's depiction of torture is most shocking because it is undramatized and matter-of-fact. It's disturbingly clinical and rightly so.
As the next decade of false starts, missed opportunities and junk intel unfold, Maya begins to become obsessed with finding bin Laden. As a stand-in for the audience, finding him gives sense and closure to 9/11, to Iraq, to Afghanistan and to the last decade of geo-political theatre. And while that's never expressly said (Bigelow and Boal are too smart to do something like that), her search becomes our search and it isn't long before the audience is putting their own perspective on what the manhunt means.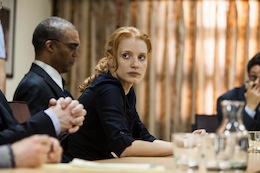 Boal's screenplay is remarkable in its economy of storytelling and clarity. There is a huge cast of supporting players, but he wisely places focus solely on Chastain's character. Shouldering the entire burden of this story would be daunting for any actress, but Chastain is never better than she is here. Her performance is metered and believable, full of the kind of shaky poise and volatility many actors struggle to balance. It's remarkable to think what lies ahead for her career.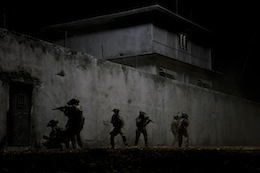 At times the film's supporting cast can be somewhat distracting, as Bigelow chose to populate with recognizable TV and film actors. This is typical of most films, but one of the things that made her last film The Hurt Locker so compelling was the absence of recognizable faces, save a few cameos. It forced the audience to focus on the story more than the characters. Zero Dark Thirty is compelling enough on it's own merits that the casting choice never impede the film, but if there's a nit to be picked, that's the only one.
The raid on the Abbottabad compound will go down as one of Bigelow's crowning achievements in filmmaking and does an excellent job of summing up the power of Zero Dark Thirty. We as an audience know how the events played out. We know that he was killed and we know that there was no loss of American life. But even with that knowledge, Bigelow and Boal are able to create a scene that is intense and gripping for every frame. She uses several cinematic mechanisms to accomplish this, namely handheld cameras and the absence of a soundtrack, but there's a real economy of filmmaking and assuredness in the editing, choice of camera placement and actor choreography that make it masterful.
Zero Dark Thirty is the rare film that treats both its audience and its subject matter intelligently. In a lesser director or writer's hands, the story could have been made-for-TV caliber or jingoistic or propagandistic. It could have trivialized the mistakes and embellished the victories and canonized everyone involved. But it doesn't.  What it does do is tell a story closely connected to real events with an astounding attention to detail and in the process touch on true and real.