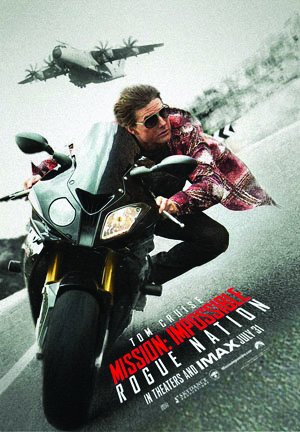 [Rating: Solid Rock Fist Up]
Twenty years after the first installment, Tom Cruise and his buddies in the IMF (Impossible Mission Force) take on their toughest opponent yet, The Syndicate. And 20 years later, the films are still referencing the 1960s television show, the evil organization were the regular antagonists in the series. This may be another action movie sequel, but Mission Impossible: Rogue Nation feels fresh and is as exciting as any film out today.
The film takes audiences all over the world, from Minsk to Cuba and Vienna to Morocco. And within the first 15 minutes, Ethan Hunt is captured and framed by The Syndicate, who consist of a group of rogue agents and ex-military trying to control the actions of the world by killing off heads of state and anyone of importance who disagrees with their plan. You know, typical evil mastermind group stuff. The Syndicate is led by Solomon Lane (Sean Harris), not the greatest bad guy in the series because he looks and acts like an evil Steve Jobs. If I was Hunt, I would have been more worried about Janik "Bone Doctor" Vinter (Jens Hultén), because he actually looked scary and, well, that nickname, doesn't sound pleasant.
While Ethan, Benji (Simon Pegg), William Brandt (Jeremy Renner), and Luther (Ving Rhames) figure out how to take down The Syndicate, Brandt is also fighting the head of the CIA, Alan Hunley (Alec Baldwin), who wants to disband the IMF. Hunley is under the impression that Hunt's team is secretly The Syndicate because every time they look for trouble, they come out the heroes, or that they're just lucky and serve no real purpose to the U.S. government.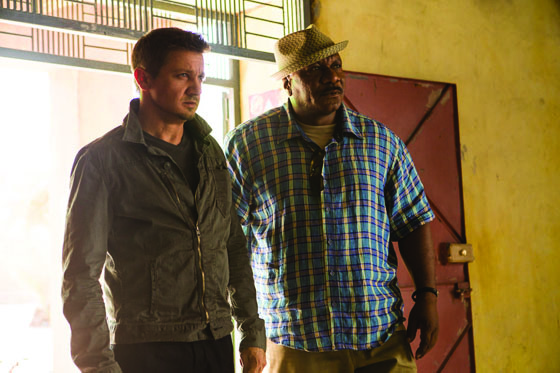 Written and directed by Christopher McQuarrie, the fifth installment of the Mission: Impossible series reunites Cruise with the co-writer of Edge of Tomorrow, one of the best films, not just action movies, of 2014. McQuarrie also wrote and directed the underrated Cruise thriller Jack Reacher. There's an obvious rapport between the two, as McQuarrie knows how to write for his actor, hitting all the perfect notes and drawing on Cruise's likeable wit and charm.
But lets talk about Tom Cruise for a second. The 53-year-old actor doesn't need to do his own stunts. Someone needs to tell him there are professional stuntmen in Hollywood that would gladly do that work for him. But like usual, Cruise actually straps himself onto the side of a jet as it rolls down the runway and takes off. It was reported that at times, he was hanging outside that jet 5,000 feet in the air.
Cruise actually trained himself to hold his breath for six minutes for an underway heist scene, which also required Cruise to jump off a 120-foot ledge. It doesn't end there, Cruise actually straddled his two-wheeled steed, without a helmet or any sort of protection, mind you, for a chase scene in Casablanca where he had to be traveling, at least, 60 miles per hour on that bike. The guy is a dedicated madman and audiences need to appreciate the hardwork and dedication he puts into every role. People also forget that he was nominated for three Academy Awards and uses that phenomenal acting range to bring in audiences for laughs and to keep them on the edge of their seat.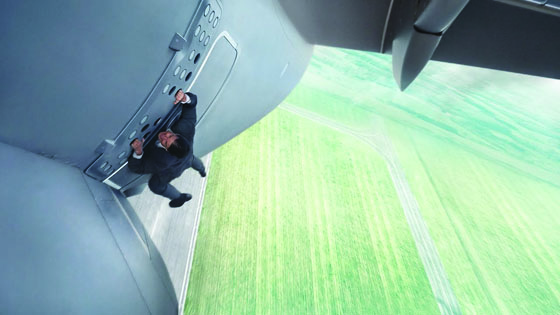 Cruise can only do so much and the surrounding cast play off his strengths perfectly. For Mission: Impossible 3, director J.J. Abrams introduced audiences to Benji and for Mission: Impossible Ghost Protocol, Brad Bird perfectly integrated Brandt onto the team. If only all these actors were 10 years younger, because just as the series is hitting its stride, I can't imagine there'll be too many more adventures. But I know I'll be front and center for Mission: Impossible 6, anxiously watching to see how Cruise and the gang top this nearly perfect action movie.