Even if you haven't seen a movie about psychic Jedi warriors in the United States Army who kill goats with their mind, you may come out of "The Men Who Stare at Goats" thinking that you've seen a lot of it before.
George Clooney stars in this adaptation of Jon Ronson's non-fiction book and Grant Heslov, his producing/writing partner from "Good Night and Good Luck," takes the director's chair for the first time. Where Clooney exhibited measured control directing "Good Night," though, Heslov is all over the map with "Goats."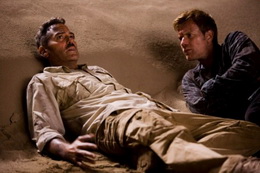 The movie can't quite make up its mind about what it wants to be: a silly farce, a character drama, a military satire, a supernatural story, or the personal journey of a humiliated cuckold. This wouldn't be a problem if it did all of things well and found a through-line, but "The Men Who Stare at Goats" doesn't do that. Instead, it's a random string of gags and scenes (some that work well, some that don't) that all somehow ring familiar. What the film is lucky to have is an excellent cast that seems game for anything.
The cuckold's tale
Ewan McGregor plays Bob Wilton, the reporter who stumbles onto the story of the First Earth Battalion around the same time his wife leaves him for a one-armed man. His discoveries about a New Age branch of the Army headed by long-haired Vietnam vet Bill Django (Jeff Bridges) should be enough to get him interested, but instead it's being dumped that gets him to Iraq, talking quite coincidentally to Django's star pupil, Lyn Cassady (Clooney). His backstory seems forced from the get-go, but when the absurdities of the situation start piling up, it's easier to forgive.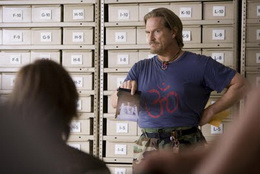 Silly farce
From there, the movie has a lot of fun filling in the details of this psi-ops Army division. Few actors today can do furious deadpan delivery like Clooney, but some of the stuff he has to convey is so preposterous that when the film asks you to believe in its characters, it's just impossible. The exception: Bridges is quite sympathetic as a man who's faith and hope are always teetering on collapse. On the level of farce, however, the film works for a good hour or so.
Military satire
The suggestion that the Army would pursue psychic exploration—and put up with a flower-carrying troop that stands for everything contrary to Army policy—for the sole reason of weaponizing it, is pretty funny. Screenwriter Peter Straughan gets a lot of mileage out of the notion, hoisting awkward notions of peace right up there against men in military outfits who start behaving strangely. But just when the movie feels as if it ought to be getting somewhere comes the sad realization that it has actually begun to wind down.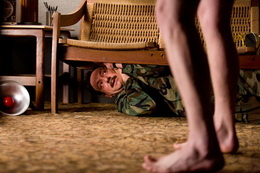 Character drama?
When all the characters from this flashback-riddled and disjointed movie finally converge, it's the biggest letdown of the film. All the possibilities that the script hinted at earlier are unwisely scuttled for a lame escape attempt with no real consequence or purpose. It's hard to get involved in the characters' plight, especially when the road that they take is so arbitrary all of a sudden.
Supernatural story
Kevin Spacey plays a career-minded psychic warrior who brings unwanted change into the New Earth Army and therefore confirms our suspicions that all of this mind-literally-over-matter stuff is hogwash. Or is it? "The Men Who Stare at Goats" has an unconvincing and unfunny ending that wants to have it both ways, but just comes off as pandering.
The movie is uneven for sure and ludicrous in conceit, but that's not to say that it isn't entertaining at times. McGregor is saddled with a tiresome everyman role, but Spacey, Clooney, and especially Bridges make some of their scenes work better than they should. If only Heslov had been able to make a cohesive film out it …