From the quick-cut opening scenes in "The Goods: Live Hard, Sell Hard," it's obvious what director Neal Brennan has in mind. He's hoping that the lightning-fast pace of the movie will cover up for the fact that nothing about it is neither fresh nor funny.
On paper, casting Jermey Piven (the fast-talking Hollywood super agent Ari Gold on HBO's "Entourage") as an aggressive, womanizing used car salesman sounds perfect. What "The Goods" may be best remembered for, though, is how good it makes the writers of "Entourage" look.
One comment I love is when people watch a really funny movie and they say "Oh, that whole movie was probably improvised!" This may be partially true, but even for a film like "Borat" or "Waiting for Guffman," there wouldn't be a movie without the writers. (Almost as proof, "Borat" was even nominated for a screenplay Oscar.)
Piven is a very funny actor and his ability to spout off pithy one-liners with the confidence of a pit bull uniquely positions him in the current world of comedy. But with an asinine script by Andy Stock and Rick Stempson, his talent becomes an empty shtick that quickly becomes annoying.
The deeply buried vulnerability that makes Ari Gold oddly likable doesn't exist in "The Goods." Instead, Piven is saddled with a lame backstory about a former partner's tragic death (by selling–how wacky?!), something about a lost son, a thoroughly forced romantic subplot, and a series of awful and increasingly desperate stabs at raunchy humor.
The film's biggest failure? In a movie that purports to be all about selling at any cost, there is an alarming lack of actual salesmanship or interesting technique. At least in the 2005 satire "Thank You for Smoking," Aaron Eckhart's Big Tobacco spokesperson had an amazing talent for spin. Piven's salesman-for-hire Don Ready doesn't come up with one convincing or funny argument for a sale in the entire film.
Hell, even when the down-on-their-luck salesman of Selleck Motors (the company Don is there to save) start moving vehicles, all Brennan does is cut to a triumphant montage: It's all cheering, holding hands up high, and ringing the sales bell. We don't even know what exactly it is Don taught them to turn their business around! (Or did that also happen in a vague montage?)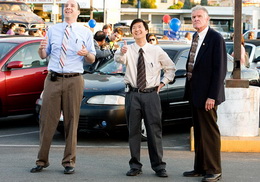 If there was one way this film might have succeeded despite all its other failures, this would have been it. Show us some insight into the how and why of "hard" salesman. Don't just keep reminding us how badass they are. Let us go behind the scenes; let us see all the dirty tricks and techniques. There has to be more to "hard selling" than merely starting a car at a higher price and letting the customer think they've bargained you down.
I did reference all its other failures in that last paragraph, so let me just compile a quick list:
Wasted talent
Brennan co-created "Chappelle's Show." What's worse: Ed Helms and Craig Robinson from "The Office," Tony Hale from "Arrested Development," Rob Riggle and Kristen Schaal from "The Daily Show," David Koechner from "Anchorman," Ken Jeong from "Knocked Up," and Will Ferrell himself (in a cameo) are all spectacularly unfunny for the entire 90-minute running time.
Degraded talent
James Brolin is reduced to playing gay for laughs, constantly coming onto Koechner in the most routine ways possible, and even sporting a huge boner unnecessarily for a failed attempt at a cheap laugh. Veteran actor Charles Napier is reduced to playing racist for laughs, playing a dumber version of the same crazed war veteran we've seen in every bad comedy since the late 70s. But wait, there's …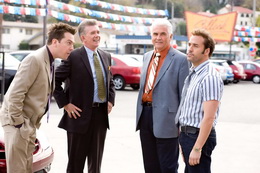 Even more outdated cliches!
Besides the fact that the premise is a rip-off of 1980's "Used Cars," Helms is in a "man" band—a three-man singing and dancing trio modeled after the boy band craze of … the late 90s. Way to keep current with your parodies, gents. Maybe in the sequel, you could poke fun at grunge.
Mean-spirited for no reason
At least in "Bruno," Sacha Baron Cohen's flamboyantly aggressive uber-stereotyped gay behavior forced us to confront our own prejudices. The caricatures that inhabit "The Goods" go for the easiest, safest, and most insulting punchlines while pretending to be edgy by adding raunch. Just because you throw in some breasts and a couple of mismatched sex partners doesn't mean you're dangerous. In fact, it's the lamest kind of safe.
Even the end-credit "where are they now" character updates are uninspired
It's the final nail in the coffin of this desperate comedy: We get terribly unfunny onscreen text for just under 10 characters you couldn't care less about, and each one is less funny than the one that preceded it. It's ironic, since earlier this summer, Ed Helms also starred in "The Hangover," which utilized the end credits to greater comedic effect than any other movie in recent memory.