[Rating: Solid Rock Fist Up]
On demand and digital tomorrow, You Don't Nomi, writer/director Jeffrey McHale's new documentary on the cultural phenomenon of the 1995 Paul Verhoeven film Showgirls, traces the movie from its initial release and mockery to the recent reappraisal as a cult classic. As the film progresses, McHale manages to show that it's not so simple as it might seem.

"In You Don't Nomi, a chorus of film critics and fervent devotees explore the complicated afterlife of 1995's biggest film flop, Paul Verhoeven's Showgirls, from disastrous release to cult adoration and extraordinary redemption. The films features Adam Nayman (Vice Guide to Film), April Kidwell (I, Nomi) and Peaches Christ (Milk).
While Showgirls is the main subject Of You Don't Nomi, the documentary is also a retrospective of Verhoeven's directing career from RoboCop, Total Recall, Basic Instinct, Starship Troopers and Elle, among others. It explores the themes that unite his films, while showcasing Verhoeven as a genius and as a controversial figure all at the same time."

For those who don't know, a quick synopsis: Showgirls is a movie about Nomi (Elizabeth Berkeley), who comes to Las Vegas with the goal of becoming a showgirl. Through guile and sheer determination, she works her way from lapdances at Cheetah's Topless Club to headlining Goddess, the premiere revue at the Stardust Casino. There's a lot of catfighting, horrible behavior by everyone – but especially Nomi – and nudity, before something terrible happens to Nomi's roommate, Molly (Gina Ravera), the one decent person in the entire film. Nomi gets revenge for Molly, makes amends with those she's wronged, and heads out of town.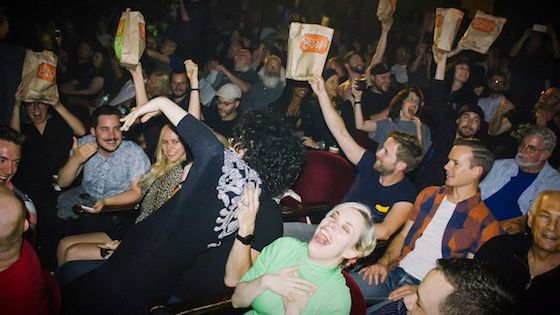 The film was dragged by critics and the public for its sordid displays of flesh and explicit language, as well as having a tone which made daytime soaps seem restrained. It bombed, making $7 million less than its $45 million budget, despite the allure of seeing Berkeley – one of the stars of the '90s teen comedy, Saved by the Bell, all nakies. Somehow, though, as the film reached home video, it underwent a transformation from flop to kitsch to cult classic. That story is the one told in McHale's You Don't Nomi, and it's almost as fascinating as the tale of the film itself.

It would have been very easy for McHale to go the usual cinematic retrospective route and just have a parade of people talking about the film, showing clips, and turning the documentary into an extended I Love the '70s / '80s / '90s / Best Week Ever style takedown, reveling in the butts, boobs, and bombshells of it all, but instead, the director plays with the documentary form. Completely eschewing talking heads in favor of voiceovers means that Showgirls is on full display for the entire length of You Don't Nomi's runtime, as well as Verhoeven's entire cinematic oeuvre.

What this means is that, at times, characters from Basic Instinct, Black Book, Total Recall, and Robocop, as well as other Verhoeven pictures, seem to be watching or commenting on Showgirls, allowing McHale to tie the film into a grander sense of what Verhoeven and writer Joe Eszterhas were hoping to achieve. There's an especially lengthy look at Verhoeven's first few films, such as Turksih Delight, and how they fed into what would come later, as well as examining a bit of Eszterhas' back catalog, as well.

However, the segment on the Verhoeven / Eszterhas collaboration which immediately preceded Showgirls – 199's Basic Instinct – demonstrates the duo's penchant for pushing the limits and going for broke, in terms of nudity, language, and borderline absurdity when teamed up, and how each would respond when confronted regarding their output.

Thankfully, confrontation isn't limited to old news reports. For all of the love and effusive praise upon Showgirls, and presentations which comment on its cinematography, themes, and overall presentation, the commentators aren't afraid to level complaints or even outright condemn certain aspects of the film – specifically, the fact that the film's only decent human being and one of the few black faces in the film, Molly, is suddenly, brutally gang-raped. It's so horrific, when Adam Nayman started screening it as part of a midnight movie series, and later, on the road, he'd cut it out of the print he showed, and simply address just how awful it was.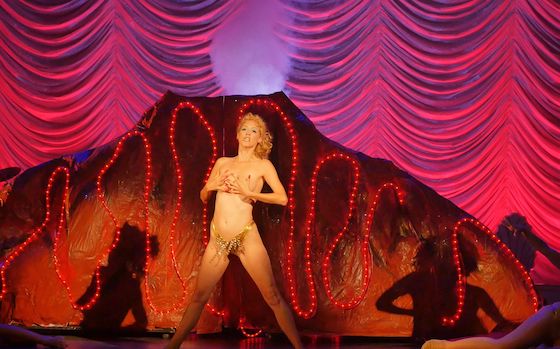 One would think that having Nayman as the primary voice heard would be a bit much. In addition to authoring a book entitled It Doesn't Suck: Showgirls, he provided commentary for the 2004 DVD release of Showgirls, wherein MGM acknowledged and promoted the camp nature of this film they'd previously had no idea what to do with. However, given Nayman's lengthy history with Verhoeven and Eszterhas' film, he's the perfect voice to link the various other commentators together. The sheer width and breadth of his academic knowledge, up to and including quoting from Verhoeven's coffee table book, Showgirls: Portrait of a Film.

Bringing in Showgirls! The Musical's April Kidwell is brilliant, because Kidwell also played Jesse Spano – Berkeley's Saved by the Bell character – in Bayside! The Musical!, a musical tribute to that program, which allows McHale to do what he does best in You Don't Nomi, which is to look forward and backward, simultaneously. In Kidwell, he has a voice which looks at Elizabeth Berkeley's acting past, while also looking at Showgirls' long tail of influence on pop culture. It's a brilliant segment, especially as the musical's tagline perfectly sums up the film upon which it is based: "Singing. Dancing. Tits."
The sheer number of ways in which writer/director Jeffrey McHale uses You Don't Nomi to recreate the retrospective movie documentary means that this might be the new gold standard by which I judge things from now on. While the likes of Never Surrender: A Galaxy Quest Documentary and the like do a fine job of creating warm fuzzies about movies already beloved, McHale's film manages to take a movie you're likely already biased against and leave you feeling like you might just love it.