There's a great moment in Jack Reacher: Never Go Back when Major Susan Turner (Cobie Smulders) lashes out at ex-Major Jack Reacher (Tom Cruise) for stepping in and taking charge of their plan to uncover who has framed her.
"Argh!" she yells in frustration (and I'm paraphrasing, which should tell you about the quality of the dialogue): "You're just like every other military man I deal with who underestimates me every day."
It's the one self-aware moment in a movie that's steeped in classic-era tough-guy mythmaking while also being full of enough bone-crunching violence to satiate modern crowds. The title character, who headlines 20 books by British author Lee Child, is an ex-military investigator who follows his own moral code and acts alone. He embodies the righteous independent American spirit, and suffers no fools.
It's interesting then that the central mystery of Jack Reacher: Never Go Back revolves around military corruption and the nefarious dealings of a greedy military contractor. The script, co-written by director Edward Zwick (Glory and The Last Samurai), smartly avoids making jingoistic statements while maintaining predictably safe ground: Reacher is a man of action and revenge, standing up for what's right, and he only kills somebody if they're trying to kill him first.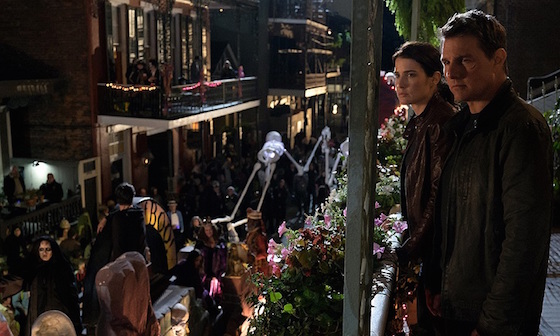 The first Jack Reacher in 2012 was more of a guilty pleasure, reveling in its own trashiness with macho one-liners and over-the-top performances. Never Go Back dials that back a bit and frankly, it's less fun. It does, however, share its predecessor's knack for suspenseful plotting and Zwick spends a good amount of time deepening the characters and trying to achieve a sense of realism, for whatever that's worth.
That means skipping the eight books in between adaptations and softening Reacher enough to develop feelings for the impromptu nuclear family that awakens when he, Turner, and a teenage girl (Danika Yarosh) go on the run.
Jack Reacher: Never Go Back is as safe as mainstream entertainment gets, but it succeeds in that modest goal and is a welcome respite from the world-destroying robots, disaster scenarios, and apocalypses in films of late.
Eric's Test-O'- Time Verdict: RENT
This review is part of Eric Melin's "LM Screen" column that appears in the winter 2016 edition of Lawrence Magazine.