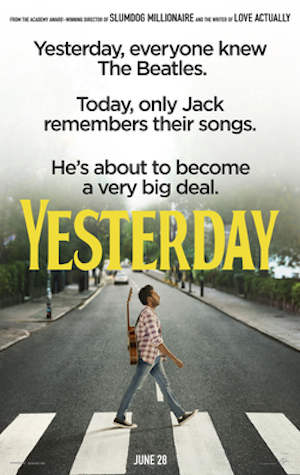 [Rating: Swiss Fist]
What if you were a struggling singer/songwriter who wrote tunes nobody cared about? And what if you suddenly possessed the greatest popular songbook of all time, say the entire Beatles' oeuvre, that was somehow entirely unknown by the rest of the planet? That's the question the rom-com fantasy Yesterday poses, and the answer—for lead character Jack Malik (Himesh Patel)—is that you start playing the Beatles hits and passing them off as your own.
There are lots of threads to pull apart and nitpick, but I'll stick to one for brevity's sake: If the Beatles songs were released today, is it a given that they would all hold up (I Wanna Hold Your Hand, for example)? Would everyone immediately recognize their genius, or are some of the Beatles songs best taken in context of the changing times they were recorded in? And should it also be taken into consideration that the Beatles were reflecting and pushing popular culture forward with every new release?
So much for brevity. Okay, those are loaded questions, but you get the idea. What Yesterday does well is to take a wildly creative "what if?" premise and turn it into the ultimate imposter syndrome nightmare. Jack isn't merely faking it until he makes it, he's actually armed with an arsenal of tunes that no one else knows even exists. He can't be caught. Or can he?
While the music industry is quick to proclaim Jack a songwriting genius, some suspicious strangers seem to know Jack is lying about his sudden burst of creativity. The film pulls some expected and welcome tension from this, as well as Jack's ever-developing conscience. However, both of those threads lead nowhere as screenwriter Richard Curtis gives Jack an easy out featuring a seismically reductive and wrongheaded surprise appearance that will polarize viewers. After this, Yesterday falls back on its more standard subplot—the near-romantic relationship between Jack and Ellie (Lily James), the girl who's always believed in him.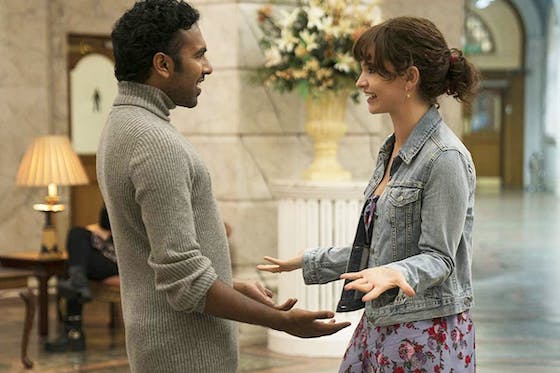 Credit should be given to director Danny Boyle, who up until this moment, crafts a perfectly charming comedy with two leads who have real chemistry. And it capitalizes on some very funny supporting performances from Ed Sheeran as an ego-driven heightened version of himself and from Kate McKinnon as a brazenly evil manager who is the stand-in for everything wrong with the recording industry.
Yesterday gets a lot of mileage out of its actors, clever jokes made possible by its wacko premise, some fun spin-off scenarios, and an excuse to perform the greatest hits of one of our timeline's greatest bands. But for many (including this reviewer), the film's breezy script will fall entirely apart with its eye-rolling and insufferable third-act reveal.
Oh well, as a certain song by a certain band goes: Ob-la di, ob-la-da, life goes on, bra. La-la, how the life goes on.
This review is part of Eric Melin's "LM Screen" column that appears in the upcoming fall edition of Lawrence Magazine.