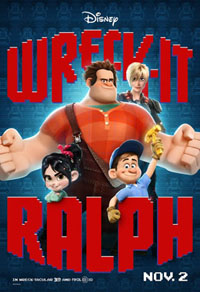 Pixar's growing influence on Disney, particularly that of head of Walt Disney Animation Studios John Lasseter, is certainly evident in Wreck-It Ralph.
The latest Disney animated feature from longtime Futurama director Rich Moore bucks the trend of most animated kids' fare in that it's a love story to classic videogames (which skewers older) and is centered around the unlikeliest of heroes — a villain. It also doesn't take place in our reality. Instead, it's set in a world where arcade games and their myriad characters roam about, but are connected to each other by a Grand Central-like power strip allowing them to come and go as they please.
Wreck-It Ralph (voiced by John C. Reilly) has spent every day of the last 30 years doing exactly the same thing. When the arcade opens and the first customer puts a quarter in the videogame (as if a quarter would buy you a game anywhere today), Ralph sets to wrecking the digital landscape of Fix-It Felix, Jr. This, of course, allows the game's hero (Jack McBrayer) to fix the villain's destruction, vanquish his foe, and earn his medal.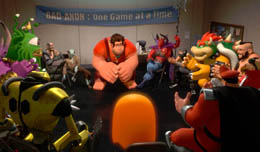 Tired of feeling unappreciated by the other members of his game, Ralph ventures into the world of Hero's Duty (a modern Halo and Call of Duty-style first-person shooter) to steal himself a medal. The irony of a hero needing to steal a medal is lost on the goodhearted but dimwitted Ralph. His journey will also take Ralph to Sugar Rush (think Super Mario Kart set in the middle of Candyland) where his friendship with the glitchy young brat named Vanellope (Sarah Silverman) will lead to an entire new set of misadventures.
Deliberately geared to my age group — those of us who grew up with Saturday afternoon trips to the arcades and have watched games grow more complex over time but still fondly look back on the classics — Wreck-It Ralph celebrates both old-school games (such as Donkey Kong which Fix-It Felix, Jr. so obviously pays tribute to) and more modern games as well. This isn't old school versus new school, instead it's a villain's journey into new worlds to prove he can be more than the sum of his programming.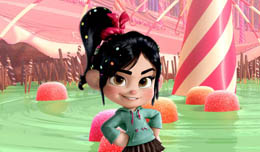 Reilly is terrific as the softhearted but constantly frustrated Ralph, and the design of the character that destroys his surroundings even when he tries to tip-toe around them perfectly matches his performance. If not for Reilly, McBrayer and Jane Lynch (as the tough-as-nails Sergeant Tamora Jean Calhoun from Hero's Duty) could have easily stolen the film as the unlikely pair of allies trying to return Ralph back to his game before it gets unplugged. They also must stop the Cy-Bug (a mindless insect that spreads like a virus) that Ralph unwittingly unleashed on Sugar Rush from destroying the game and then spreading through the entire arcade.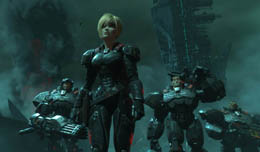 The movie's first-half hour (preceded by the terrific new animated short Paperman) is nearly perfect and includes a humorous villain anonymous sequence and a great time-lapse video of the arcade over the 30 years as we watch the surrounding games come and go around Fix-It Felix, Jr. I was surprised, though, how much of the movie takes place in the game Sugar Rush — around 70 percent. After setting up this wider universe for the story, limiting it to one game for most of the film makes it stall a bit in the middle, but Reilly and his talented supporting cast keep the film afloat until the script can deliver a few new twists and a darn good final act.
Wreck-It Ralph features several classic videogame characters in cameos, including Q*bert,  Pac-Man, Ryu, Ken, and an entire villain's anonymous meeting with Bowser, Clyde, Dr. Eggman, Zangief, Neff, M. Bison and others. Although the famous Italian plumber doesn't make an appearance, he is referred to directly. Fans of these games should definitely enjoy seeing the various characters brought to life on screen, whether for a few minutes or only seconds.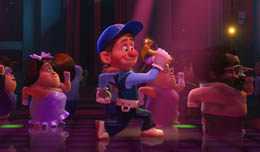 Those who grew up with the rise of video games and arcades should feel right at home. I would have loved to pause and take the time to examine all the numerous characters on-screen at the same time in the few scenes which take place in the power strip that allows video game characters to travel to new worlds.
Thankfully, Wreck-It Ralph realizes that nostalgia by itself is not enough and the movie delivers a likable, though far from perfect, hero. Ralph's journey is fun, entertaining, and has more than a little of that Pixar spirit we've come to expect from movies under Lasseter's guiding hand.