Here is my TV review with clips of World War Z and The Bling Ring with Dave Hall on KCTV5′s It's Your Morning. My print review of World War Z is below the video:
KCTV5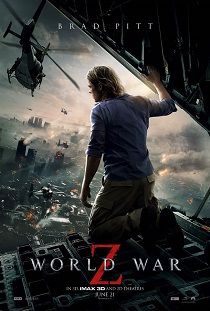 The new summer tentpole movie World War Z has been the subject of lots of bad buzz. From a ballooning budget to reported re-shoots, the Brad Pitt-produced adaptation of Max Brooks' best-seller has long been troubled. The final product, however, isn't a disaster at all — as long you're not expecting it to be anything like the book.
Director Marc Forster shoots World War Z — which is about a sudden zombie-like virus that takes over the world in a matter of days — in a more realistic fashion than most zombie movies. It's way more Contagion than it is Dawn of the Dead.
After grounding the story emotionally with Pitt and his family (Mireille Enos from AMC's The Killing plays his wife), the chaos kicks in with some well-staged scenes of zombie panic that put the audience in the middle of the confusion.
Before there is barely time to process what's happening, former United Nations man-of-action Pitt is whisked away to travel the world and figure out how to stop the pandemic.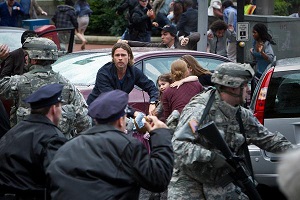 The ultimate strength of World War Z is its ability to consistently create ticking-clock situations for its characters after laying out very specific parameters. There is an investigative aspect to the movie for sure, where Pitt and what is left of the American military and leadership explore options and hunches, but World War Z gets most of its mileage out of first-person danger. How would you react if fast-moving zombies were suddenly swarming you? What split-second decisions would you make?
World War Z has a couple of loose ends from a plot standpoint, and it's not at all realistic that Pitt would be able to traverse the globe and be everywhere important at just the key moment. That and some herky-jerky zombie CGI are the only things that combat the film's plausibility, but who isn't willing to forgive a little in the midst of genuine suspense and shock?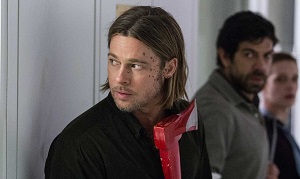 The book is set up completely differently, describing perspectives from all kinds of individuals worldwide during a decade-long zombie war with shades of global political and military commentary. The movie takes the detail and realistic palette of the book as inspiration, and re-imagines some of the events, focusing instead on the immediate trauma.
In that sense, World War Z is a pretty traditional horror movie, which is unusual for a story that has such epic scope. I got the feeling that there were probably all kinds of scenes and subplots that were deleted in favor of this more streamlined (and just under two-hour) approach.
Forster also succeeds in making World War Z a very tense film without the aid of any Walking Dead-style gore. This is a PG-13 movie that wrings maximum tension out of its life-or-death situations, with nothing less than the future of humanity at stake.