I love going into a movie, knowing next to nothing about it and being completely sucked into the story and dragged through the mystery as if I was a character along for the ride. Wind River is exactly the type of a slow burn, mystery thriller I need every year around this time, as the final remnants of a mindless summer swirl down the drain.
Set during a wintery spring in Wyoming, the film centers on Cory Lambert, played by Jeremy Renner (on a break from Avenging,) who plays a hunter. When locals have problems with mountain lions attacking cattle, this dude goes out and snuffs out the problem. As a storm rapidly approaches, he embarks on a routine search for a predator and instead discovers the dead body of a local Native American teenage girl.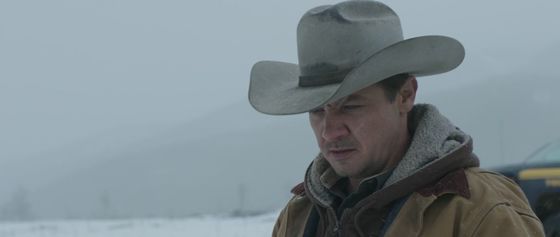 The FBI, with bigger fish to fry send greenhorn agent, Jane Banner, (Elizabeth Olsen, also on an Avenging hiatus.) She's out of her element and in over her head, and needs to rely on Cory's knowledge of the land and his instincts as a tracker to find the killer before the blustering storm makes finding clues impossible.
Writer and director Taylor Sheridan (writer of Hell or High Water and Sicario) delivers a tightly wound suspense thriller as intense as it is unpredictable. The pacing is near perfect, starting slow and as the investigation uncovers one surprising clue after another, pulls the strings on that tension as it builds into a downward spiral towards the reveal. You feel like you're a member of the search party.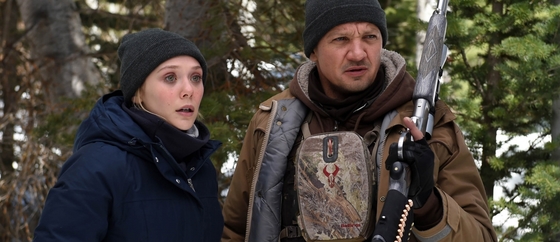 Renner is in his element here and seems perfectly cast as the hunter with his own demons, as this case strikes a personal chord. He's a cowboy and a man of few words, but while the character's own personal pain plays a part, it never distracts from the mystery at hand. Olsen is solid as the newbie agent. At times, her character feels reminiscent of Clarice Starling of Silence of the Lambs fame in that her inexperience and naivety play into her effectiveness as an investigator. They've got great chemistry, forming a bond of mutual respect without needlessly cramming a love interest situation in for no reason.
The harsh Wyoming setting is the perfect setting for these characters' individual journey. This is a a land where only the strong survive. The cinemeography is incredible. The movie looks cold and you'll feel cold watching it. The supporting cast is made up mostly lesser known actors, or at least faces you don't instantly recognize, giving the film an authenticity that adds to the mystique.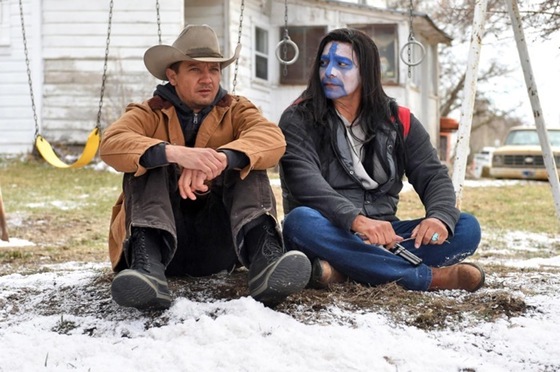 But the real star here is Sheridan, who has proven to be one of the best screenwriters to emerge in recent years. Sicario and Hell or High Water are two of my favorite movies in recent years. In hiss debut as a director, Sheridan tells a story that is compelling and suspenseful as it is brutally intense. And at 1 hour and 47 minutes, it feels just long enough to draw out the tension and suspense to the point where you can feel the snap and then wraps itself up without much of a fuss.
Wind River is an intense, and genuinely mysterious suspense thriller. It's easily one of the better movies of the summer — or maybe I'm just so jaded by most of what has been offered lately — but it could ruffle a few feathers come awards season.
If not, at least it's the first sign that there is life after the doldrums of mindless summer movies.