It's common knowledge that Judd Apatow and his merry band of improv comedians have helped to make movies like "Knocked Up" and "Superbad" way better than your average batch of raunchy comedies while simultaneously seeming more authentic. When Seth Rogen and his friends get in a room together to do improvise the hell out of a well-scripted scene, the funny gets funnier and it all feels more real.
"Drillbit Taylor," which was produced by Apatow and co-written by Rogen, makes you realize how good the scripts to those movies had to have been because no amount of improvisation could have saved a screenplay as lame as this one from itself. Even with heavyweights like ultra-sincere jokester Owen Wilson, Leslie Mann (Apatow's wife, who was so bitingly terrific in "Knocked Up"), and Stephen Root (Milton from "Office Space" and Jimmy James from the overlooked sitcom "NewsRadio"), the movie falls flat left and right.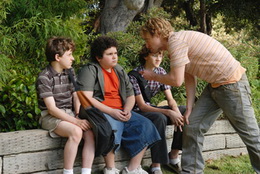 Apparently, the story was conceived by '80s teen movie guru and current recluse John Hughes (under the pen name Edmond Dantes—a strange reference to "The Count of Monte Cristo"), and then penned by Rogen and Kristfor Brown. It's been almost 18 years since a picked-on teen hired a bodyguard to protect him from the high school bully, so most people have probably forgotten "My Bodyguard." (The filmmakers didn't: that movie's bodyguard, Adam Baldwin—better known now as Jayne from "Firefly/Serenity"—cameos as an unsuccessful applicant for the job.)
"Drillbit Taylor" expands on that premise by making the bodyguard a homeless Army defector and expanding one nerd to three. Why Rogen decided to model these three nerds so closely after his "Superbad" characters is beyond me. Like Seth, Evan, and McLovin, the three young losers of "Drillbit" have inflated, defensive egos that go hand-in-hand with their lack of self-confidence; and they even bicker amongst themselves about who of them is the geekiest, as if one nerd is nerdier, and hence slightly less cool, than the other.
But what was fresh, articulate, and downright shocking sometimes in "Superbad" is now PG-13, and just plain neutered.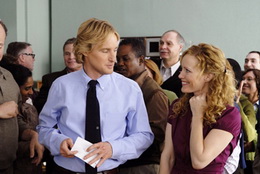 Directed by Steven Brill ("Without a Paddle," "Mr. Deeds"), this film is one almost-funny situation after another that is completely undercut by lazy timing and editing. Wilson isn't awful as the title character—he's just coasting. The Jonah Hill kid (Troy Gentile) is hard to understand sometimes and curiously keeps slipping in and out of a Brooklyn accent. Drillbit's buddies look like actors wearing "homeless clothes" and their scenes together have no chemistry whatsoever. Brill doesn't seem to know when to end a scene, letting the fizzled joke grow stale right before our eyes.
It's hard to get excited about writing about a movie that's so averagely unfunny most of the time. "Drillbit Taylor" is not offensively bad; it's just offensively bland, especially for Rogen, who has been on a roll lately.
If I may quote "Mr. Show with Bob and David"—the best sketch comedy show since "Monty Python's Flying Circus"—"Drillbit Taylor" was just good enough to bring us to "the edge of laughter."