What exactly is a "wildling"?
Well, newcomer Fritz Böhm's coming-of-age horror flick Wildling (playing at Screenland at Tapcade) is about a young girl whose new world and way of living shadow a deep dark secret she holds. Wildling premiered this year at South by Southwest and although it seemed to be a hit among critics and audiences, it still has a lot of gaps that it needs to fill.
The film is about a young girl Anna (Bel Powley of Diary of a Teenage Girl) who lives in a small room of sorts in the woods with her 'Daddy' (Brad Dourif aka the voice of Chucky in Child's Play). Daddy says he's there to help Anna never go outside to be harmed by "a wildling," some sort of creature that haunts the woods and Anna's dreams as she grows older.
She spends her days indoors, eats a diet of steamed vegetables and at night, takes mysterious shots which seem to make her more sick than anything. Her life is changed when Daddy shoots himself and suddenly Anna wakes up in a hospital next to Sheriff Ellen Cooper (Liv Tyler) who takes Anna home to start a new life away from the man known as Daddy (obviously not her real father if you didn't catch that by now). Ellen tries to get Anna into a normal life as a teenager, but as Anna reaches puberty and adulthood, her body starts to change into something more sinister that she thinks is a wildling.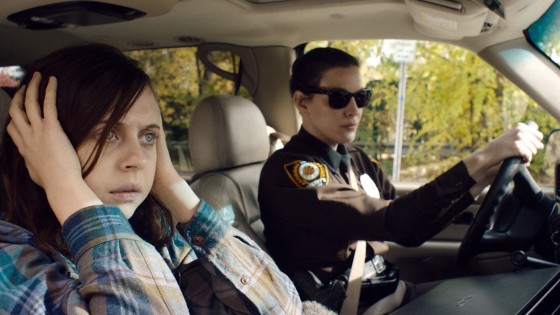 Most psychological horror films never really burrow that deep into my head or make me feel something beyond surface-level kicks, but Wildling had an interesting premise and a plot that kept me guessing until the end. This film wants you to make your own conclusions on why Anna lives her youth in a room and why Daddy keeps her from the wildlings. Is he more protecting her than harming, or the other way around?
Something that never made sense to me however, is how fast Anna gets into a school. Tyler's son in this Ray Cooper (Collin Kelly-Sordelet) befriends Anna and helps her through school, but for a girl who is literally experiencing life, maybe homeschooling would help a little more.
The climax of this film, when things start making sense and you lean back and think "OH SHIT!" (or was that just me?) is well thought out. I would even say the whole idea of this film is to keep you in the dark until finally the light reveals all. Light plays a big part in this, through the Northern Lights, even if the wildlings prefer their lives in the dark. Be careful what is lurking out in the woods because a wildling just might get you too.