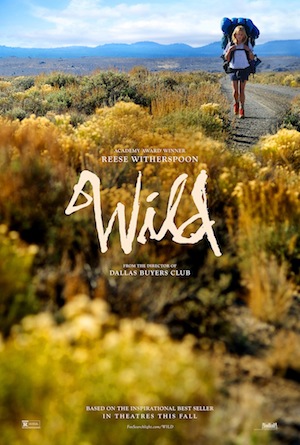 [Rating: Solid Rock Fist Up]
This Wild movie review appears on Lawrence.com.
It could have been pretentious as hell: An aimless young woman, searching for herself, discovers her own courage by hiking 1,100 miles of the Pacific Crest Trail alone.
That's pretty much the one-sentence description of Wild, starring Reese Witherspoon as Cheryl Strayed, the real-life author who did just that and wrote a best-seller about it. It just goes to prove Roger Ebert's old saying — and one of my favorite quotes about film criticism — "It's not what the movie is about, it's how it's about it."
This isn't the one-with-self drama-queen travelogue of Eat Pray Love or the pompous one-with-nature spiritual quest of Into the Wild. It's a down-to-earth tale of a damaged woman with something to prove to herself, told in an interesting way.
Wild has a real dark side — in both the flashbacks to Cheryl's painful past and the looming threat of a woman traveling alone, meeting the wrong kind of person along the trail. There's real danger here, but there's also a wicked sense of humor.
Cheryl knows the trip is a bad idea, but is compelled to go forward because there is nothing to go back to. She curses her own unpreparedness the entire trip. She doubts and curses herself out loud. In the opening scenes, she chucks her hiking shoe down a steep hill in frustration, only then realizing what a dumb mistake that was.
Adapting Wild into a feature film has been a passion project of Witherspoon, who also produced the movie. Although she's a little too old to play a twentysomething, she throws herself into the role, inhabiting all of her character's contradictions.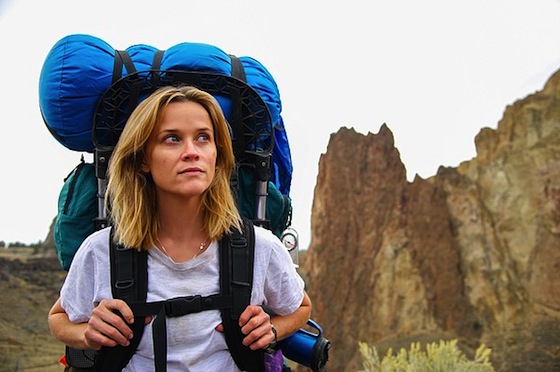 She's playing way against type as a grief-stricken divorcee whose downward spiral of promiscuous sex and drug addiction led her to this unlikely place. The film's frank depiction of Cheryl's sexuality is one of the things that supports the actress and helps to lift her out of her comfort zone.
Having written the novels High Fidelity and About a Boy, screenwriter Nick Hornby understands aimless characters, and his script is a skillful balancing act. It undercuts an overly serious tone whenever possible and layers in a poignancy that rarely seems forced. As she continues her journey, Cheryl earns the respect of fellow hikers along the trail. As the narrative unpacks her personal story, she earns our respect.
Director Jean-Marc Vallee (Dallas Buyers Club) does an amazing job of varying the kinds of shots in Wild, which could have been overtly aesthetically pleasing — all color-treated outdoor vistas and sunsets.
Instead, his depiction of Cheryl's surroundings is more natural; it varies by the landscape, and echoes the honest portrait of his heroine. Cheryl's inner monologue is illustrated through a combination of clever techniques, including narration from Witherspoon, her own memories and the songs that get stuck in her head.
The flashback sequences — especially the ones featuring an enigmatic Laura Dern as her mother — are a nice break from her hiking adventure, and sport a dream-like quality, with quick flashes and lots of camera movement.
In short, Wild breaks the mold of other trip-as-self-discovery films with a refreshing honesty. The filmmakers succeed in telling a familiar story in bold fashion, bringing the audience into the mind and experiences of its lead character without making her an allegorical or literal martyr.