On the surface, Larry David ("Curb Your Enthusiasm") would seem like the perfect candidate to step into a Woody Allen movie. After all, he's a writer-turned-actor who specializes in neurotic behavior just like Allen. He's also very funny and more than a little mean-spirited, so he should have suited the material in Allen's newest Manhattan-based film, "Whatever Works," perfectly.
Unfortunately, there isn't anything really new in this movie. The script itself was actually written for actor Zero Mostel and shelved when the actor died in 1977. Allen dusted it off, gave it a polish with a couple of modern references, and cast David in the Mostel role. This may be part of the reason that "Whatever Works" rarely does work, but most of the reason it doesn't is that nothing really connects in the movie—not the characters, the acting, or the story.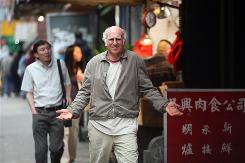 That isn't to say that some of the dialogue isn't funny. It is. David, playing a once-notable and bitter physicist named Boris Yelnikoff, gets off some good one-liners between mouthfuls of thesaurus stumpers while trying his hand at Allen's well-worn Jewish scholarly type. Boris' misanthropic meanness is at an all-time high for Allen protagonists and after the joke wears off, David doesn't do much to make the character appear to grow at all, even if his lack of growth is a sticking point (right up to the ridiculously far-fetched "lighter" ending).
You can't really even blame Evan Rachel Wood, who plays pig-tailed Melodie, the obligatory pretty young thing who just happens, quite literally, on Boris' doorstep. She is the only one who seems to inhabit a character in the entire film, even if she is given some serious handicaps. Boris sarcastically comments that he once played for the Yankees and Melodie keeps bringing it up, too stupid to realize after the first time her told her he was joking that he really was joking. When the mismatched couple grow closer, Melody keeps bringing it up and Boris keeps calling her a moron. It's one thing to write your main character as an unreedemable prick, but it's another for us to believe that Melodie can't muster a modicum of common sense.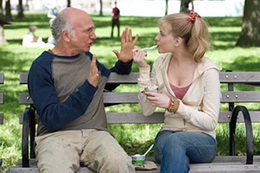 Melodie's mother, Marietta (Patricia Clarkson), and her father, John (Ed Begley Jr.), also arrive in New York from hicktown Mississippi, and the real trouble begins. Allen's script then turns into a story about how the big city has the power to turn backwater religious nuts into upper west-side bohemians. Clarkson and Begley Jr. suffer a worse fate than David because nothing surrounding their characters is even remotely believable. Has Allen lost interest in directing actors? The movie goes from burned-out Allen motif to a mannered dinner theater production in little less than 10 minutes. And it stays there.
I realize that this is a fable, and perhaps not meant to be completely believable, but my patience has worn too thin at this point in the film. "Match Point" and "Vicky Cristina Barcelona" and their European environs breathed new life into the writer/director's work. This return to familiar setting doesn't do Allen any favors. He's coasting.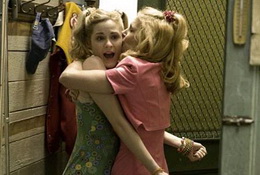 One common theme in Allen's work is Boris' outlook on this existential nightmare of a world. It gives the movie its title. The miserable bastard says you have to "filch what happiness you can" out of life. "Whatever works," he says.
What doesn't work for Woody Allen is to fall back on stilted, self-conscious material such as this. Returning to a philosophical idea or mining the same type of humor (even breaking the fourth wall) doesn't necessarily have to be so stale. Had he been more flexible on the script or perhaps given his actors (with Larry David, Ed Begley, and co-star Michael McKean, he has some of the world's top improvisers) some more leeway, "Whatever Works" wouldn't feel like such a dated retread.
I feel like I've given the prolific Allen a certain benefit of the doubt when it comes most of his movies for the past 15 years. However minor they may be, they offer their distinct pleasures. With "Whatever Works," however, the joke wears thin too soon and it devolves completely into artificial mockery.