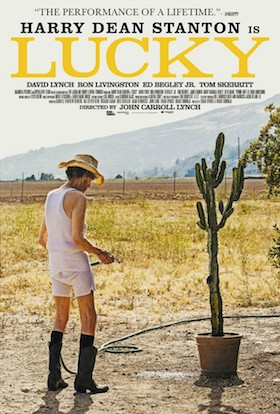 [Rating: Solid Rock Fist Up]
Everyone dies one day, and how a person confronts that fact if often the final chapter in a narrative that stretches across hundreds, if not thousands, of plotlines. Whether it is from a cancer diagnosis, or just the split second a person has before a sudden accident snuffs them out, death inevitably comes for everyone, and it is up to each person to figure out how they are going to process their ultimate finality. Lucky is the story of one old man approaching that very precipice, and how people make meaning out of death via an exploration of life.
Harry Dean Stanton plays the title character, who lives in a small, unidentified western American town with an eclectic mix of weather-worn characters. Each day, 90-year-old Lucky wakes, does some yoga, gets dressed, then heads out on his diurnal routine. Walking with the slow, deliberate shuffle befitting a man of his years, Lucky makes his way to a local diner for coffee and a crossword, to the store for milk (the only thing in his refrigerator), back home for his afternoon gameshows, and finally to a bar where he can have a casual drink or two amongst friends.
The interactions Lucky has with the townsfolk each day follow a similar script and pattern, just like the routine of his life, and that's the way he likes it. This is all interrupted one day when Lucky faints at his home, which leads up to a trip to see the town doctor (Ed Begley, Jr.). The doc explains that Lucky is in remarkably good shape for a man his age, and despite the mysterious fall, there doesn't seem to be anything wrong with him. Yet Lucky is indeed old, and the doctor plants a seed in Lucky's mind regarding the inevitability of death that throws the octogenarian for a loop.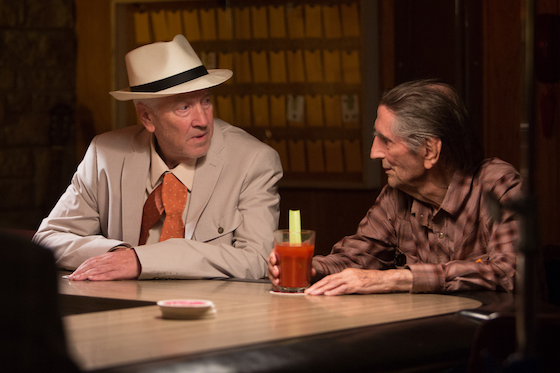 What follows is a thoughtful meditation on life and death as seen through the eyes of a well-adjusted old man who doesn't fall into any classic or expected tropes. Lucky is not a cantankerous bastard with a redeeming side hidden beneath the gruff exterior, or a past-his-prime mustang full of regret and loneliness, no: Lucky is doing alright. He's largely embraced by his community, seems content with his life, and has all the mobility and cognitive functions of a man half his age.
Lucky's journey in this picture could have taken place for anyone at any age, really. What makes this film special is its embrace of a 90-year-old protagonist with total agency and the ability to experience self-discovery without an outside force pushing him in one way or another. This is important, because this isn't a movie about a "story" as much as it is about people. To pull this off, the film requires the highest level of acting from its cast, and longtime actor and first-time director John Carroll Lynch has hit the jackpot in this regard.
Lynch leans on his actors to evoke the drama and emotion that propels the movie forward, relying less on the action of the script, and more on his cast to bring out the themes. Stories that Lucky's friends tell in the café or bar draw out the truth of the scenes involved, and build the framework for the film's overarching message. Thoughtful conversations about a lost pet, as told by Lucky's friend Howard (director David Lynch in a jaw-dropping supporting role), or the redeeming nature of love as told by barfly Paulie (James Darren) provide the context for what's at stake, here.
What matters in life isn't necessarily a contest over what one accomplished, or what one has at the end of it all, but rather how a person reconciles the things they've done with the person they have become. And despite the fact that Lucky seems to be pretty much at peace with his life, and who he is, he still has a hurdle to clear when finally coming around to the fact that he's in the twilight of his life. And maybe that's the point. Any person, no matter how well adjusted, needs to come to terms with their mortality at some juncture: hopefully we're all in as good a place as Lucky when we do it, though.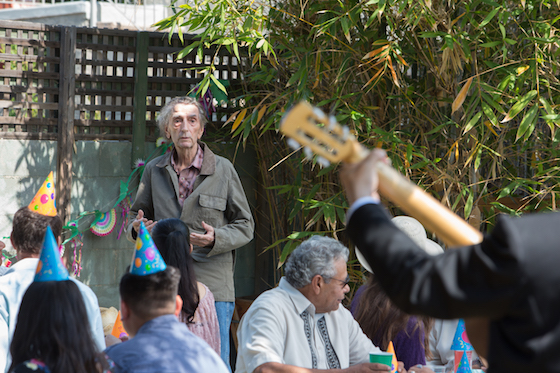 It's sadly fitting, then, that this is the last performance the world will get from Harry Dean Stanton, who just passed away last month. Few actors could lay claim to a more storied and dynamic career, so it seems perfect that the guy would go out giving a performance about an old man's triumphant claim of victory on a life well lived. Understated, honest, familiar, and comforting right up to the end, Stanton's turn in Lucky is perhaps his best work outside of Paris, Texas, and is easily his most personal.
Smaller turns by Ron Livingston as a local estate lawyer, Tom Skerritt as a fellow world War II vet, and Barry Shabaka Henley as the local diner proprietor, round out a fantastic supporting cast. All appear in small doses, yet each does an outstanding job drawing out the humanity of not just Lucky, but the small town as a whole. These are all fully realized people, not just functions of the script, and each is given a moment to let their humanity breathe a bit. This isn't just good character work, it is essential to the movie's main theme regarding the precious and unique nature of every existence.
Opening this week, Lucky manages to tackle a big theme without getting too bogged down in its own story. Although a few threads are left dangling here and there, overall, the effort is a tightly woven tale of life, death, community, and individuality. Truly, audiences are lucky that they've got Lucky.