Language is a funny thing. Being able to truly establish a benchmark for clear and concise communication is key to building a healthy relationship based on mutual respect and trust.
Arrival, the latest treat from director Denis Villeneuve, is a near-masterpiece of thought-provoking sci-fi that explores the dangerous line humanity crosses by not communicating.
But what if we're talking about communicating with aliens — actual freaking beings from another freaking world in another freaking universe? We have a hard enough time communicating with people who speak our language, much less from another country — but another world? Yikes. It's a scary thought.
If space aliens really just suddenly arrive someday, how would we react? Would we have the patience to try and communicate and learn their purpose, or would we whistle that little jingle from Close Encounters and then try and blow them away if they can't name that tune?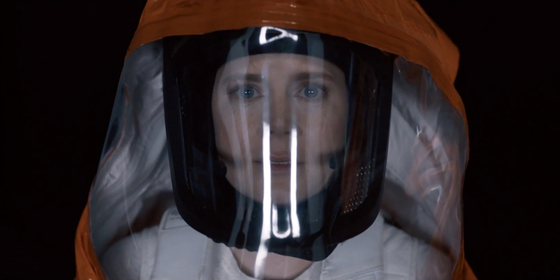 This is the basic premise of a movie that is anything but basic. In Arrival, Amy Adams plays a linguist entrusted to establish communication with the extraterrestrial occupants of an alien spacecraft after 12 UFO's mysteriously appear in across Earth. The goal is to find out the purpose for the arrival and it's going to mean working together not only as Americans, but with countries around the world as they struggle with patience to decode the alien's message (or is it a warning?)
Now, most of this set up is covered in the trailer and I'm not going to get into the details of the plot much more than that. Aliens come. Humans wanna know WTF they're doing here. It all comes down to communication. The clock is ticking. The stakes are huge, but the film dwells on the small, personal battles, allowing the threat to loom in the background.
Arrival poses a number of philosophical questions, nearly all off of which have an extraordinary amount of weight and relevance in our own twisted and divided society. We fear what we don't understand and too often are more likely to lash out in defense, rather than try communicate and understand something that is foreign to everything we know.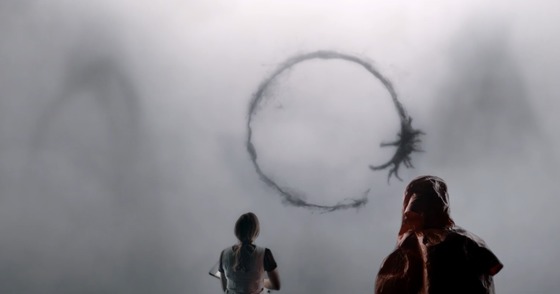 But knowledge is power and with great power comes great responsibility and all of that. If we know we are destined for failure will we still make the same choices? Again, the film is deep, but we're gonna stay in the shallow end here and concentrate on how emotionally engaging the film is and how incredible it looks.
The cast is loaded with talent and nearly everyone brings their "A-game". The real standout here is Amy Adams, who has become a perennial Oscar contender year in and year out. As our fearless linguist, Dr. Louise Banks, Adams delivers a deeply emotional performance that pulls at the heart strings.
She's balanced by Jeremy Renner, taking a break from Avenging to be Adams' partner in establishing communication with the aliens. It's a grounded performance by Renner, who as theoretical physicist Ian Donnelly, provides an emotional and intellectual balance as he and Dr. Banks try and hold off a global war. And don't sell Forest Whitaker short as the only one from the military willing to give them the time and patience they need to unravel the mystery.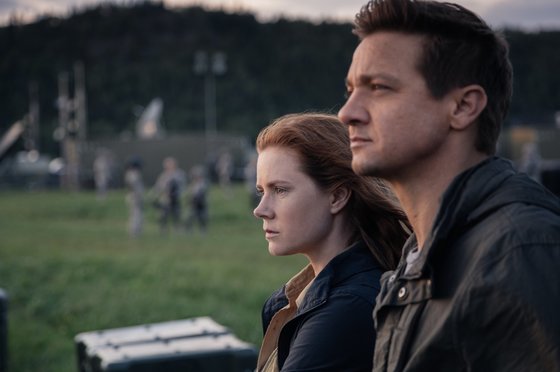 Villeneuve (Prisoners, Sicario) proves he is a master of transitioning genres delivering a taught mystery ripe with internal conflict. This is a very personal story with huge ramifications, disguised as an alien movie. Each shot echoes the isolation, fear, and confusion these characters feel as they struggle to come to terms with their purpose in the bigger picture. It's really beautiful, both visually and emotionally.
Arrival marks the arriv — err — kick-off to awards season and will be a serious contender, despite being a sci-fi movie about aliens. It's deep, thought provoking, meaningful science fiction. Calling it one of the best sci-fi movies in years might be a stretch, but that's probably true. It's definitely one of the best of this year and is unlike any movie you've experienced before.