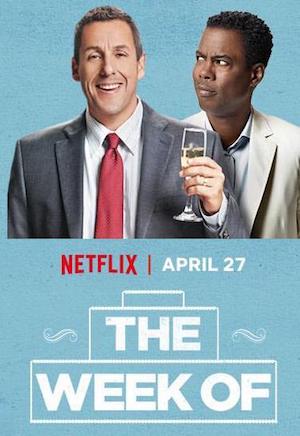 [Rating: Rock Fist Way Down]
There was reason to hope that the latest Adam Sandler movie, The Week Of, might rise above the dismally low bar set by the previous three "comedies" in his Netflix Originals contract. It was co-written by and marks the directorial debut of writer Robert Smigel, who headed up SNL's subversive TV Funhouse shorts and is the voice/creator of Triumph the Insult Comic Dog. And it co-stars Chris Rock, one of the sharpest stand-up comics of this generation.
All the bigger the letdown then that The Week Of is a messy patchwork of a movie that is tonally all over the map and way overstays its 116 minutes. In it, Sandler plays a working-class Long Island father who organizes and tries to pay for every part of his daughter's upcoming wedding, even though the groom's father (Rock) is a rich and successful surgeon. What could have been an incisive comedy about class and ethnicity is instead a random dump of easy, mean-spirited jokes mixed with unearned sentimentality.
The Week Of also draws unfavorable comparisons to the worst of the Farrelly brothers movies (Shallow Hal, Stuck on You), in that it preaches sympathy for the "weirdos" who are often undervalued in society—but has no problem treating them like freakish punchlines.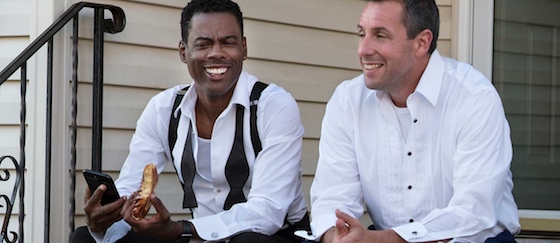 Rock's character in particular is portrayed as such an unredeemable jerk in the opening scene that it's completely unconvincing when the movie swerves to try and soften him up later. He is also the victim of a wholly unfunny climax to a sad running gag with a double-amputee WWII vet that has Rock caressing the man's stumps like breasts.
Some of this brand of comedy seems like an attempt to get away with the kind of shock humor that Sacha Baron Cohen excels at, but without any underlying wit, it just comes across as sad.
This review is part of Eric Melin's "LM Screen" column that appears in the summer 2018 edition of Lawrence Magazine.