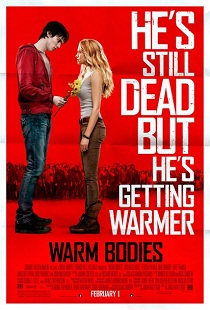 Never was there a tale of love condemned more than that of Julie (Teresa Palmer) and her zombie boyfriend (Nicholas Hoult). One is a human-acting zombie from the wrong side of the tracks. The other is the tempestuous daughter of the leader (John Malkovich) of the army obsessed with blasting the brain-eaters off the face off the Earth.
From writer/director Jonathan Levine (50/50, All the Boys Love Mandy Lane) comes a post-apocalyptic zombie love story take on William Shakespeare's classic Romeo and Juliet which definitely has a pulse.
Presented from the point of view of R (Hoult), a thoughtful zombie who begins to believe he can be more than just an undead scavenger after meeting Julie (Palmer) and eating her boyfriend's (Dave Franco) brains, Levine's script is far more clever than I expected. Warm Bodies may not reach the heights of Shaun of the Dead, but with some heart and a good sense of humor this new take on a classic love story embraces the more absurdist elements of its premise and is a surprisingly compelling and entertaining story.
After saving Julie's life from the fate that befell her friends while scavenging for medicine outside the walled-in protected human zone, R takes the scared young woman home with him. Julie's curiosity over the odd-acting zombie who shows no interest in eating her brains and keeps protecting her from harm (while showcasing good taste in music) finally gets the better of her. And so begins an awkward friendship between a scared young woman and a walking corpse who can barely speak.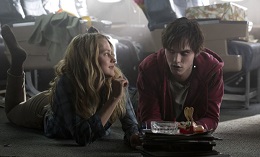 Narration can make or break a film, especially one which uses it throughout the entire course of the plot. Here R's inner thoughts allow us to see his own fears, dreams, thoughts, and awkward attempts at humanity while keeping a confused, if curious, Julie unaware what our zombie with a crush is actually thinking. This, mixed with intentionally awkward movements and facial gestures by Hoult provides a warm character (despite his body temperature) we can actually accept as the heart of the film. Sure, R eats human brains, but that doesn't make him a bad person.
The more time R spends with Julie the more he begins to understand just what her presence is doing for him. When their pairing starts affecting other zombies as well, such as R's best friend (Rob Corddry, who steals the film's biggest laugh), even the further advanced full-on skeleton zombies (known as "Bonies") begin to take notice. Levine's unique cure for zombieism may seem quaint, and even a little cheesy, but in this post-apocalyptic future, the Beatles were right. All you need is love.
The film's eclectic soundtrack ranges from Jimmy Cliff to Guns N' Roses to The MynaBirds. Some songs are used to underline or deliver the punchline of a joke, while others merely set the scene of the characters and how they view the world. In both manners the film succeeds in using music to help tell its story (although I think they missed a golden opportunity for a John Mellencamp song in the movie's epilogue).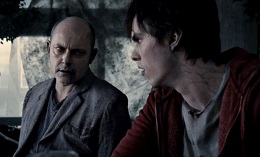 Sadly, some of the supporting characters aren't given much to do and are largely wasted. Malkovich is little more than one-note as the overprotective soldier father, Corddry is burdened by his character's zombie limitations and limited screentime, and Analeigh Tipton shows up as the clever quipping best friend in a role that feels more pat and cliched than actually necessary.
It's the two stars however, and how they sell the premise, that makes Warm Bodies work. I've often liked Palmer more than the projects she's found herself in, and Julie is a full-rounded character that allows her to finally shine. Although I've seen Hoult as well (he was Beast in X-Men: First Class), this is really his first memorable role (as an adult), as he does a surprising good job with showing the conflicting nature of R's thoughtful inner narration and the awkward outer appearance.
I can understand why a movie like Warm Bodies might find itself in the February dumping grounds, since the film isn't the easiest to market (although Warm Bodies' use of humorous variant movie posters is very well done). The studio's lack of confidence actually helps here as the film has little competition this time of year (other than Oscar contenders slowly being rolled out across the country).
Even if it doesn't make big waves at theater, this smart and heartfelt zombie flick has enough to become a cult classic.