This review originally appeared in shorter form on KSNT-NBC, KTKA-ABC, and KTMJ-FOX, Kansas First News.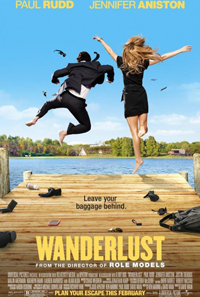 With rampant unemployment and the recession dragging on into its fourth year now, perhaps there are some married couples out today who have thought about drastically changing their lifestyle like Paul Rudd and Jennifer Aniston do in the new comedy Wanderlust.
If only living with a bunch of carefree hippies in a commune could be so stress-free.
All of the laughs—and there are plenty in Wanderlust—come from these two urbanites not just being challenged by things like lack of privacy, no possessions, and free love … but actually trying really hard to accept them.
Co-writer and director David Wain, who also directed Role Models and Wet Hot American Summer, gives Aniston, Rudd, and a talented supporting cast of very funny comedians enough room to make the most out of each situation, and Paul Rudd especially is up to it.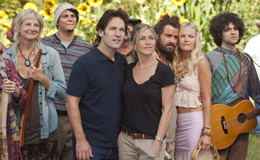 Whether it's deadpan humor or relentless mugging, Rudd has never been funnier, and the film lets him go for broke on more than one occasion with hilarious results. One improvisational scene in particular, where he tries to work himself up for some casual sex by looking in the mirror, is sure to go down as some kind of cult classic moment, like his "Slappin' da bass" line from I Love You, Man.
Though it tries to maintain its focus as a movie about a couple desperate to figure out how they fit into modern society, there is a certain amount of absurdity to the movie that keeps it from being grounded.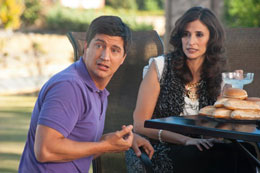 Ken Marino, who along with Wain and several other of the film's co-stars was a cast member on the MTV sketch comedy show The State, also co-wrote Wanderlust and plays Rudd's wealthy blowhard older brother. It's the kind of over-the-top characterization one would expect from a sketch comedy show. Justin Theroux is pretty over-the-top as the communal leader who just wants to get Aniston in bed as well.
But Michaela Watkins, formerly of Saturday Night Live, absolutely revels in her absurdity as Marino's alchoholic, mentally undernourished wife and throws out a couple of jaw-dropping, biting one-liners. And Joe Lo Truglio possesses an unusual amount of sweetness as a nudist trying to finish his novel …
… so the comic tone of Wanderlust—from sincerity to parody and back again—is all over the map. The movie doesn't really hold together as a convincing character-driven romantic comedy—in fact, sometimes the story gets in the way of the film's offbeat and loony sense of humor.
Simply put, however, Wanderlust is unkempt and gnarly—kind of like the hippie lifestyle that it alternately makes fun of and embraces.