I can't remember being as excited for the release of any previous animated feature as I was for "Wall-E," the latest animated masterpiece from the wizards at Pixar Studios and director Andrew Stanton ("Finding Nemo"). My lofty expectations were easily met and surpassed by the visually magnificent artistry and the thematically challenging storyline. However, it will be interesting to see if audiences react to "Wall-E" the way I did, or if many children and adults will leave the theater confused and unamused.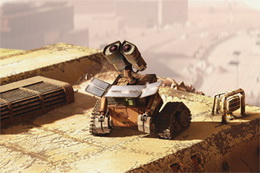 Make no mistake, "Wall-E" is a ballsy and philosophically driven science-fiction piece, dressed up as an animated children's film with a simple and moving love story between two grunt-level robots. Director Stanton is also credited with the gutsy screenplay, whose overwhelming anti-globalization, anti-materialism and in many ways anti-technology messages aren't just hinted at, they're right up in your face.
Let's skip the plot summary, OK? It's a robot love story. We'll leave it there and let you discover the plot for yourselves.
I appreciate and admire the choice of themes and the risks being taken here. Cartoons have always contained more information than was evident on the surface, and as a consequence, "Wall-E" has more depth than it knows what to do with. It is however, interesting to consider that while aimed at young audiences, cartoons have always been made by adults, so it's not a shock that a degree of social commentary has always found its way into all varieties of animated work. In the old days, social messages were snuck in discretely either for the amusement of the animators or the writers, but in recent years animated features have become more open about the larger messages at play and therefore more challenging thematically. With "Wall-E," the gloves are all the way off, which inspires the question… "If you don't agree with the agenda that's being represented would you be as comfortable with a cartoon that is so openly packed with heavy philosophical and ideological themes?"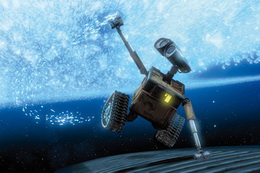 In addition to the storytelling, the makers of "Wall-E" took a big chance making a film that has almost no dialogue for the first half of its 90 minutes. My guess is that kids are more accustomed to interpreting implicit information and more in tune with the animated delivery system than their adult chaperones, who are likely to have more of a problem with the lack of dialogue than the kids.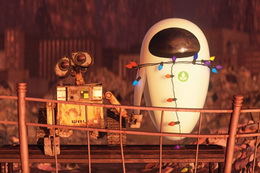 At this point in their history, audiences have a great deal of faith in Pixar, and with good reason. They have yet to release a substandard animated feature. They still rule the proverbial animation school and as a result, they have an industry of filmmakers constantly chasing their tails. "Wall-E" is a landmark film in two ways. First, the animation itself is astonishing, and represents another leap forward in both quality and craftsmanship. The second is the daring story, which could easily be reinterpreted into a literary science fiction novel, complete with the same huge philosophical questions and social criticism presented here, all of which are as overt as any of the marquee messages in any of Michael Moore's pictures.
At the end of the day, "Wall-E" is a fantastic kids movie, with the kind of heart and soul that only the best of animated films have ever had to offer. I am confident that kids will love "Wall-E" even if their parents don't, and I think most will. Even those who doubt "Wall-E" from the previews will have a hard time leaving the theater without a smile on their face and a few gigantic ideas to kick around. And frankly, it's for those reasons that "Wall-E" is exactly what exceptional science fiction is all about.