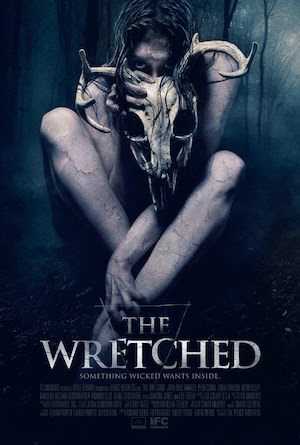 [Rating: Swiss Fist]
Directed by brothers Drew Pierce and Brett Pierce, and written by Drew, IFC Midnight's new film, The Wretched (out tomorrow at drive-ins across the country and on cable and digital VOD), is yet another horrific take on the classic "what have I seen out my window?" genre of thrillers going all the way back to Alfred Hitchcock's Rear Window. As to whether or not it's as effective as that original idea, or even as spookily weird as Fright Night, is another story.

"Following his parents' separation, a rebellious teenage boy, Ben, is sent to live with his father for the summer and work at the local marina in order to gain some form of discipline. The idyllic tourist town offers little solace for him, however, as he is forced to deal with the local, privileged teens and his father's new girlfriend. Ben's problems grow increasingly disturbing when he makes a chilling discovery about the family renting the house next door. A malevolent spirit from the woods has taken ahold of the parents and starts playing a sinister game of house, preying upon the children and wiping away any trace of their existence. Ben's suspicions of the supernatural horrors go unheeded and he launches a perilous crusade in order to put an end to the skin-walking witch's reign of terror."

I'll admit it: my wife, Tanya, perfectly summed up The Wretched when she described it as "One Crazy Summer in Candle Cove." While this might be a deep pull for anyone unfamiliar with both the John Cusack and Demi Moore '80s comedy romp and the SyFy creepypasta series, Channel Zero, let me assure you that her description is so on the money, writing anything further seems disingenuous.

However, it is worth noting that The Wretched is pretty much a beachside town version of Fright Night, replete with asshole rich kids, someone trying to enter the house, mysterious disappearances, and a plucky protagonist whom no-one believes. Here, our hero is named Ben (John-Paul Howard), and there is also a young woman love interest, Mallory (Piper Curda), and a parental figure. In this case, it's Ben's father, Liam (Jamison Jones), who is also Ben and Mallory's boss at the marina, and he's very worried about his son, who has – of course – gotten himself into enough trouble here and there that anything he says is dubious.

In other words, the usual.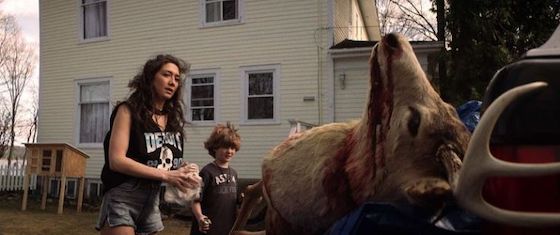 There are sinister sigils written in places, creepy voices coming from dark spaces, and everything in The Wretched follows the playbook written years before in both Rear Window, as well as every monster movie from the '50s onward, wherein the teens see something going on, and not a single adult believes them, thus requiring the youth to do battle with the invading creature.

Up until maybe the last 15 minutes or so, the Pierce brothers' film is absolutely standard fare. The acting is fine, it looks pretty good, and while you certainly know each of the beats before they happen, it's executed well enough that, while it's certainly nothing special, neither does The Wretched drag or feel as if it's some sort of exercise in predictability. The movie knows what it's here for, and moves along smoothly and proficiently.

Those last 15 minutes, however, do throw a couple of interesting swerves into the plot. While they're not telegraphed, the sudden revelations fit very nicely into the storyline and offer up a solid justification for what occurs, in terms of what's heretofore occurred. While the finale is eye-rolling, it's not awful, either.
While not breaking any new ground, Drew Pierce and Brett Pierce's The Wretched is entertaining enough to while away an hour and a half on a rainy afternoon. Think of it as the peanut butter and jelly sandwich of horror: you're unlikely to be surprised by what you're getting, but you'll certainly take it in without any complaint.