George saw the movie during Fantastic Fest last month. Read his take here. Mine follows below:
Rarely do movie critics talk about the actual experience of seeing a film in the theater in their actual review. It happens sometimes, but it's usually presented as an aside (the film broke, the crowd responded this way, the sound was bad, etc.) and not something that's necessarily essential to the enjoyment of the film.
For this review, there is simply no way around it.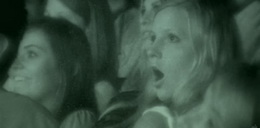 First off, the ultra-low-budget suspense flick "Paranormal Activity" has based its entire ad campaign around audience reaction. The trailers and ads show movie theater crowds jumping in their seats and screaming in horror while viewing the picture.
Secondly, Paramount has been rolling it out at midnight shows only in select cities (until this weekend's wider release), so the viewing hour limits the movie to its intended demographic—college kids up for a late-night scare. It also means that with only one showing a night the shows sell out quicker.
This means the movie's been playing to packed crowds who are already predisposed to buy into its premise of a young couple haunted by a demon who tape the bizarre happenings in their home on a video camera, especially if they watch any number of the night-vision "reality" shows based on supernatural phenomena on A&E or MTV.
One thing must be mentioned: Since 1999's similarly themed "The Blair Witch Project," audiences are smarter about the way their images and movies are presented, so filmgoers going in believing that this is documentary footage left behind by real people are probably few and far between.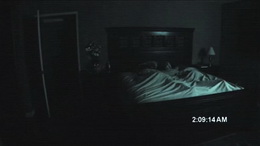 All of the above-mentioned points factor into how this movie played for me. To put it simply, it didn't.
Is that the fault of stars Katie Featherston and Micah Sloat? Not really. The acting is quite naturalistic, considering some of the contrived things they have to do and say to hit the beats of the screenplay while convincing us that the footage is real.
Is it the fault of writer/director Oren Peli? Partially. His adherence to the premise that all video was shot by Micah and Katie is part of the movie's fly-on-the-wall appeal, but it's also its biggest stumbling block when it comes to plot. It's hard to believe the couple wouldn't leave their home or seek help outside of a psychic who leaves them high and dry, bolting from the front door because of angry demon vibes.
Mostly, it's the fault of a friend of mine who sat two people down from me.
To put it mildly, the movie is a slow build. In fact, like "Blair Witch," there's barely any onscreen "action" at all. The whole less-is-more approach wasn't working for my friend, who made it known about 20 minutes into the movie that something "better happen soon." As the movie wore on, it wasn't simply whispers to his girlfriend or the guy next to him anymore, it was loud exhortations directed at the screen or to everyone else in the theater.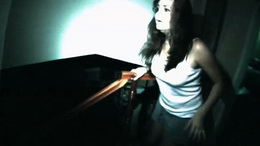 When I hate a movie, I'll admit that my body language can give it away sometimes. I'll even admit to a groan or loud sigh every now and then. For the most part, though, I try to keep that stuff in check.
When my friend started reaching across the guy between us to tap me on the leg and talk to me, I knew I was sunk. I waved him off and gave him dirty looks, trying to show my displeasure silently (while still concentrating on the film), but he continued to show his disgust with the movie out loud. (And with a great big "rock fist down.")
Here's the funny part: For some of the film, I was right there with him. I agree with him that it was hard to get into and slow to get going. There is a certain amount of suspension of disbelief, however, that you must accept in order for the movie to work for you. My friend was "out" of the film early and stayed out. (Another friend was literally out—he left 30 minutes into the movie and decided to have a drink at a nearby bar until the movie was over!)
So the bottom line is—did "Paranormal Activity" work for me? No. That night, it didn't.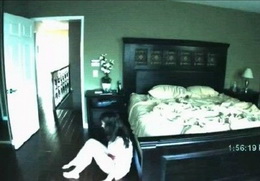 I tried to concentrate on the movie, but my environment conspired to get the best of me. (Admittedly, I even dozed off for a second or two towards the middle of the movie and was jarred awake by my friend in kind of a "ha ha—gotcha!" moment for him.)
But this brings up an interesting question: If the suspension of disbelief is such a hurdle, how does the movie play in huge, sold-out theaters, where one would expect that more people means more hecklers? I would think there would be a lot of haters, but maybe the rest of the crowd would intimidate them into shutting up.
The theater I saw it in held about 100 people, fairly spread out, and there were waiters bringing food and drink orders and checks. Their mere appearance tended to draw me out of the movie a little more too.
Or—am I simply making excuses for a movie that I never really believed? There was an impressive level of skill on display in shaping the threadbare story around the reality-style limitations it required. But I only noticed these things occasionally and on a formal level, rather than actually getting into the movie on an emotional level.
Will the movie play on TV better because the cheapo camerawork suits the medium better or will it be impossible to stay involved in with interruptions galore at home?
I can only tell you about my experience and it was mixed at best. I guess this is one of those times where I'm glad I have a rating that doesn't commit too firmly in either direction. Instead, it's complete neutrality. I'm happy to give "Paranormal Activity" the Swiss fist and I'm happy to ask you about your experience seeing the movie.
Comment away …