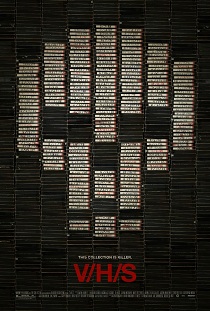 A lot of young people get punished for letting their prurient interests get the better of them in V/H/S, a new horror anthology that gives six up-and-coming indie filmmakers and filmmaking teams a chance to put their spin on the found-footage horror subgenre.
Director Adam Wingard (You're Next) provides the pervy wrap-around story (Tape Fifty-Six) that ever so thinly holds the segments together. A bunch of dudes who like pulling up girls' shirts in public and taping it for an amateur porn site get a message from a "fan." Break into this house and they'll find an infamous VHS tape. What's on it? "You'll know it when you see it."
While these miscreants search the house for the tape, various other VHS tapes are inserted into the VCR and watched. The first, Amateur Night, directed by David Bruckner (The Signal), involves some dudes who pick up a couple of girls and take them back to a hotel room. Bruckner utilizes the found-footage aesthetic well, creating suspense with a POV camera (implanted in some guy's glasses–huh?) and a good amount of offscreen terror.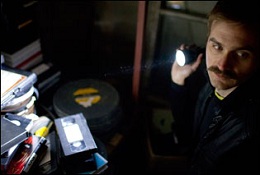 What starts out as a horny fantasy turns into a nightmare, and an inventive use of the camera and strategic special effects amplify the "if you were there" factor. Unfortunately, the tone set by this first two segments is mirrored by most of the other shorts. It's the standard slasher template of teenage flesh and punishment via gory death.
Second Honeymoon is the Ti West (The Innkeepers) segment and it presents a couple creepy moments without having a completely reprehensible guy character, but it's last-minute twist is pretty senseless.
Worst of the bunch is Glenn McQuaid's Tuesday the 17th, an ordinary teens-in-the-woods slasher story that looks even sillier thanks to the unfortunate coincidence of coming out too close to the meta-horror satire Cabin in the Woods.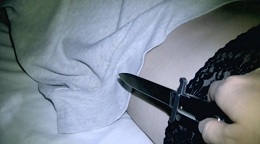 Another pervy guy asks girls to lift up their shirts in mumblecore king Joe Swanberg's The Sick Thing That Happened to Emily When She Was Younger. Swanberg himself starred in West's short, and thankfully he switches up the found-footage format by making his film a series of Skype-like chats. Besides some really unconvincing acting, this one has an intriguing setup and an interesting twist that — leads to nowhere. To make matters worse, it ends with a horror cliche so typical it undermines everything else.
Two hours is a lot of time to ask audiences to put up with shaky cameras and bad production value, so by the time the final short of the movie — 10/31/98, directed by the collective known as Radio Silence — hits the screen, its overstayed its welcome. Thankfully, this segment is the best of the bunch.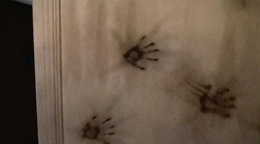 It still presents a bunch of fun-loving guys looking to party with chicks, but at least it has a sense of humor and you actually root for the characters, all decked out in their Halloween costumes. When they enter the wrong house looking for the party, things go horribly awry. Believe it or not, these guys try to do the right thing! 10/31/98 is a good-natured, surprising funhouse ride with some great catch-it-in-an-instant special effects and it feels great following some of the sleazy stuff presented earlier.
Like most anthology pictures, V/H/S is pretty uneven, but it has a fresh spirit and it feels like these filmmakers are almost trying to have the final word on the found-footage horror craze. After six shorts full of shaky cam and thin plot lines (enough to power all of the even-thinner Paranormal Activity series), you might be ready to let them put it to rest.
It's hard to make a case either way, though, since about half of the movie works quite well.
V/H/S opens today at the Screenland Crossroads.