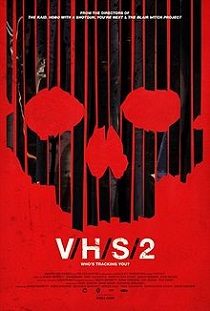 Let's just get this out of the way, so that anyone who wants to can move on. V/H/S/2 is a bad movie.
There are times when a bad horror film can be a wonderful thing, like when a movie is so low-budget and cheesy that it becomes a self-parody. These are the types of movies that are fun to watch with your friends while having a few beers and lobbing insults at the screen. Heck, Mystery Science Theater 3000 became an institution utilizing that very concept.
V/H/S/2 is not that kind of bad. This is more of the constantly-checking-the-time "Dear God, why won't this thing just end?" bad. Had I not been obligated to finish it for purposes of writing this review I would have shut it off, and I almost never do that.
It's a compilation made up of five short films, with one of the five (Tape 49, directed by Simon Barrett) serving to loosely tie them all together. Two private investigators break into a house looking for a young man who's been reported missing. What they find is an abandoned place that someone has obviously been squatting in, some televisions, and stacks and stacks of VHS tapes. It's the viewing of some of these tapes that serves to move the overall narrative along. What follows is a lot of the shaky, first-person camera, found-footage awfulness.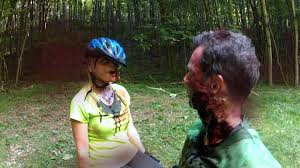 Ironically, it's the film's attempt to try and provide an overarching narrative that proves to be its biggest downfall, for two reasons. First, the multiple parts that make up this connective short film are easily the worst of this anthology. The second reason is that these "found VHS tapes" obviously don't exist in the same universe.
For example, the short A Ride in the Park, directed by Eduardo Sánchez and Gregg Hale, is shot from a helmet-mounted camera as a bike rider gets attacked by zombies and transforms into one himself. As a stand-alone short film it's an interesting enough premise, even though its execution is ultimately unfulfilling. But when it's portrayed as some sort of underground tape-traded snuff film by the main narrative, we have a problem. Really? The start of the zombie apocalypse has been kept so on the down-low that everyone is just going about their daily lives and no one knows about it? Last time I checked zombies spread like wildfire once the biting starts.
Found footage is supposed to be all about how real it feels. But these puzzle pieces don't fit together to create an overall picture. Without that realness all you are left with are low budget, shallow, short films with the camera flying around so much I'd be amazed if it doesn't make some people sick when watched on a full-sized theater screen.
The only slight exception is the short Safe Haven, directed by Gareth Huw Evans and Timo Tjahjanto, where a news team is allowed to film inside an Indonesian cult. By far the best of the five short films, Safe Haven is creative and somewhat entertaining. However, I think its quality is propped up by the sheer terribleness of the other pieces around it.
Full disclosure: I really don't like the found-footage style in general. It was inventive when The Blair Witch Project did it, and Cloverfield was an interesting intersection of big budget Hollywood special effects and Handycam realness. On the whole though, I find the genre tedious. V/H/S 2 did nothing to change that perception. If you're looking for something scary to watch this weekend, go see The Conjuring. If you're looking for a boring movie that might give you a headache and make you nauseous, by all means, watch V/H/S 2. Rock Fist Way Down. No one should be subjected to this dreck.
Click here for a review of the first V/H/S by Scene-Stealers editor Eric Melin.