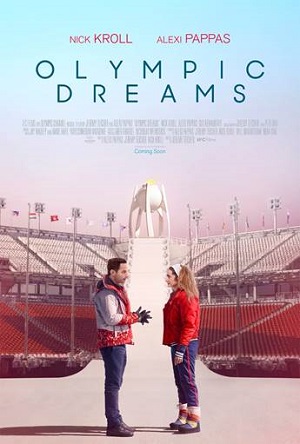 [Rating: Solid Rock Fist Up]
A movie that manages to be both big and small, Olympic Dreams is nothing short of a miracle. Filmed on location at the 2018 Olympic Games in PyeongChang, South Korea, the picture is a clever mix of cinema verité and classic rom-com, fusing the two seemingly disparate genres together in a beautiful cinematic amalgam. The story of two displaced, unmoored people finding some common ground on the other side of the world, Olympic Dreams champions the courage of hope within the whirlwind of despair.
As Olympic Dreams opens, American cross-country skier Penelope (Alexi Pappas) is in the athlete dorms in PyeongChang's Olympic Village, leaving a desperate voicemail for someone back home. The games are about to kick off and she'll be one of the first to compete, which is churning up not just the expected gameday jitters, but also existential questions about what comes next. At 22, she's "old" for her competitive field, and now that she's reached the Olympics, she must decide what's to follow: a truly daunting dilemma as evidenced by this call.
Penelope is in this rattled headspace when she meets Ezra (Nick Kroll), a fellow American at the Olympics working as a volunteer dentist for the athletes. Ezra is still smarting from a recent "break" that his now-former-fiancée initiated, but is easily distracted and charmed by the hustle and bustle of his new surroundings. The pair are both at a crossroads in their lives, though for wholly different reasons, yet they find easy company in the shared uncertainty each are experiencing in their own way.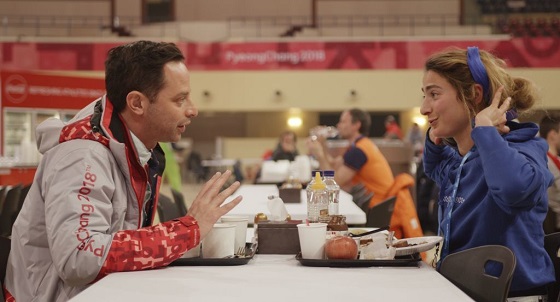 It's a straightforward set-up, a-la The Cutting Edge meets Lost in Translation, yet Kroll and Pappas click with a natural chemistry that elevates the material beyond the usual star-crossed meet-cute format. Olympic Dreams incorporates behind-the-scenes footage of the games that most never see, revealing the camera set-ups, athlete recreation areas, and even administrative offices that keep these events churning along. It's a fascinating setting for the burgeoning relationship between Penelope and Ezra, who are equally lost (physically as well as emotionally) yet find a true partner in each other.
The film is a collaborative effort between Kroll, Pappas, and director Jeremy Teicher, who is credited as a co-writer with the other two. Although some scenes do wobble a bit from the sometimes-improvisational nature of the dialogue, things never veer off into the absurd, and always remain grounded in the emotional connection developing between Ezra and Penelope. The pair take turns being vulnerable, bold, frightened, and lovestruck, yet the circumstances of their meeting don't allow them to fully embrace any of this. What they're left with, then, is just a handful of days to go through a lifetime of experiences (including stupid things done and said in anger) that this unique moment in time allows for them.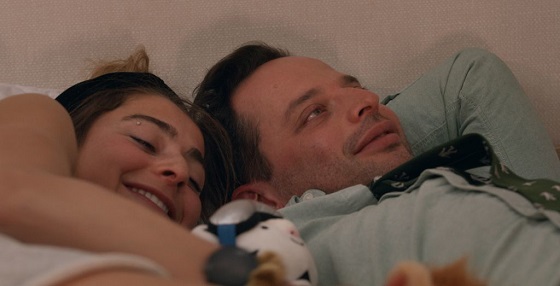 Kroll eschews his wilder comedic instincts to play Ezra with a wounded, almost child-like vulnerability that positions him as something of a straight-man in Olympic Dreams. People who have only watched him play broad comedic characters might be surprised to see him turn in a decidedly tender performance, here. A scene near the end of the picture, when he's conducting an examination in his dental office, is far and away the best work of the Kroll's career, and his ability to take his acting game to the next level is the reason all of this works as well as it does. Pappas is no less impressive as a walking, talking mid-life crisis at 22, and effortlessly creates a character that is equal parts foreign and familiar. Indeed, most probably don't know much about the pressures of an Olympian's life, but every adult knows what it means to tremble in fear in front of an uncertain future.
Though the film is a little light of foot as it concerns the larger Olympic apparatus surrounding Penelope (surely someone like her would have a coach or colleagues, right?), the driving thrust of the narrative never suffers for it. This is a film about a relationship developing inside of a bottle that only has so much room to grow and isn't meant for a larger world lacking the smooth, tough protection of the vessel. The fact that the whole thing was shot on-location in whatever spaces a quick scene could be knocked out makes the whole thing all the more impressive, too, as this is a movie that embodies the concept of "shot on the fly" without sacrificing even a hint of heart or authenticity.
A touching love letter to the lonely souls of the world who realize no one is ever lost if in good company, Olympic Dreams manages to balance reality with the romantic. Nick Kroll has never been better, and proves to be the perfect counterpoint to Pappas, whose raw vulnerability serves as the engine to all of this. And while the modest intentions and small scale of this picture will likely keep it out of the awards game, when it comes to well-crafted rom-coms with heart, this one gets the gold.