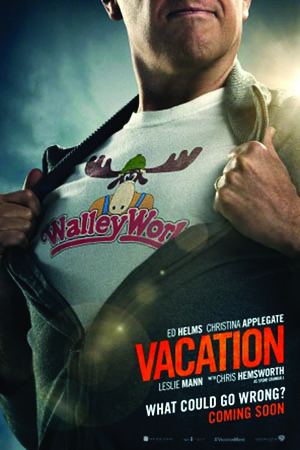 [Rating: Minor Rock Fist Up]
When I first saw the trailer for Vacation, I thought: The original still holds up, is this really necessary? And you know what, it may not have been necessary, but at least it was consistently funny as hell.
Thirty years after we were introduced to the Griswolds, Rusty Griswold, now a regional airline pilot, wants to do something different for his family's yearly vacation. Every year, they drive from their home in Chicago to Michigan for a week's stay in a cabin. While looking at past vacation pictures, Rusty notices that his wife looks more and more bored as the years pass at the cabin. Then, it hits him, the greatest vacation he had with his family growing up, a road trip to Walley World.
The remake/sequel stars Ed Helms stars as Rusty Griswold, the fifth actor to portray the character, instilled with the same blissful ignorance that made audiences fall in love with his father, Clark. Rusty is able to convince his wife Debbie (Christina Applegate) and their sons James and Kevin, (Skyler Gisondo and Steele Stebbins, respectively) that the trip will be good for them. And so, the family heads out on the road on its noble steed, the Tartan Prancer, Albania's answer to Honda hybrids.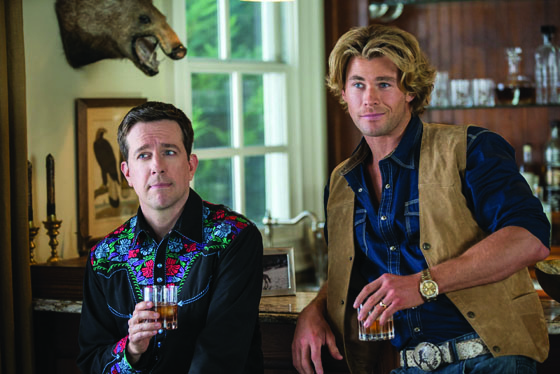 The film travels along the same road as the original, with hi-jinx taking place at every stop along the way to Walley World. One of the best is when Rusty decides to visit his sister Audrey (Leslie Mann) and her well-endowed husband Stone (Chris Hemsworth) down in Texas. Stone is a wealthy weatherman, who won't let his wife work … at all. She's obviously bored and it's even more obvious that they both cheat on each other, because Stone blatantly hits on Debbie in front of Rusty and Audrey. Hemsworth steals the movie with his smooth, Texan flirtatious drool. Even when he's talking about the cattle ranch he owns, he gives off the impression that he may or may not have had sex with those cows just by the way he talks about them. Hemsworth's comedic timing shows audiences that he's not just a Norse god, but an actor with a comedic flair.
Those are just the main players. The film also features small roles by comedians Charlie Day, Keegan-Michael Key, Nick Kroll, Kaitlin Olson and a quick appearance from mom and dad, Chevy Chase and Beverly D'Angelo. Writers and directors John Francis Daley and Jonathan M. Goldstein do a fine job of establishing the motive and character development for everyone who passes through.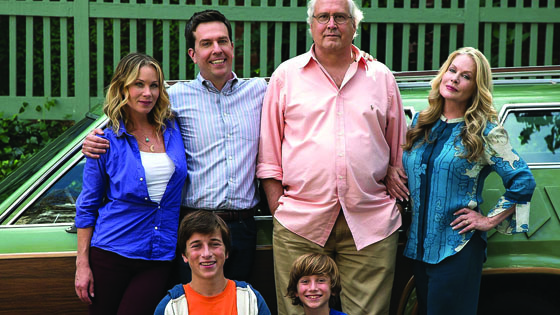 The biggest issue I have isn't directly related to Vacation and the material per se, but movie remakes that are constantly winking at the screen: I'm looking at you too 21 Jump Street. We know there was a television show or a movie previously with the same title. You don't have to acknowledge it, too.
There's a scene in Vacation, and you might have seen it in the trailers, where Rusty explains his grand plan of taking the family across the country to Walley World. Debbie asks why he would want to redo his vacation and he replies it'll be completely different and that the new vacation will stand on its own. Except, it isn't completely different. Both movies feature the following: the infamous Vacation theme song, driving across country, the same amusement park, trouble in the desert and that raggedy, old station wagon. The movie might eventually hold up on its own, but it's not different and we don't need to be pummeled with winks and nods about how clever you're being.
Regardless, I enjoyed the movie and I think it'll be enjoyed by fans of the original series, as well. I'm not sure if sequels are necessary, but if they are, hopefully they don't go to Europe or travel around the Christmas holiday.